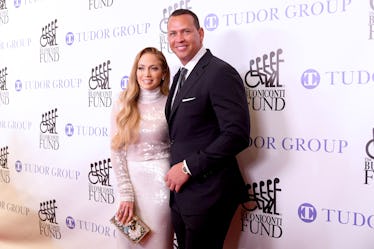 J. Lo & A-Rod's Body Language Over Time Has Always Been Strong & Hasn't Faltered One Bit
Mike Coppola/Getty Images Entertainment/Getty Images
In some relationships, a couple may be head-over-heels in love with each other, but it may not show in their body language as much as it did when they first started dating. Or vice versa — a couple's body language could reflect their immense love for one another years into the relationship just as much as it did in the first few months. Jennifer Lopez and Alex Rodriguez's body language over time is the latter. Since their very first public appearance at the Met Gala in 2017, the pop star and retired major league baseball player have had nothing but love for each other, and it definitely shows no sign of slowing down.
J. Lo and A-Rod have been together for less than two years, but it feels like so much longer, IMO. Maybe it's the way they constantly post about each other on social media or the picture-perfect moments below, but something about this couple just seems like they're in it for the long haul. The rumor mill has turned a couple times about whether or not Lopez and Rodriguez are engaged, but they've shut them down. Nevertheless, they've made incredible strides in their relationship, and a source even told Us Weekly that the couple combined their finances.
"Everything is working out so well, she doesn't want to jinx it or change anything" by getting married again, the source said. So, while marriage may not be in their future at the moment, that hasn't stopped them from thriving and growing together. Their body language is a clear indicator that for these two, nothing has changed in their affection for each other.