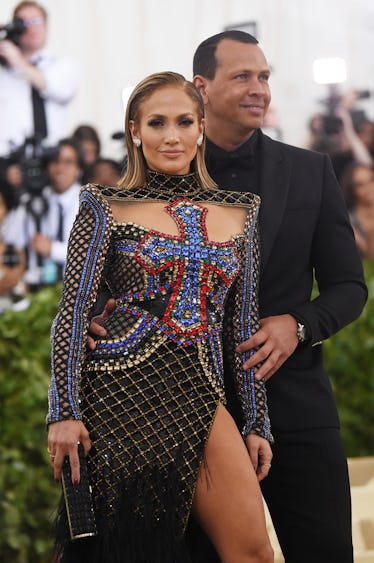 Jennifer Lopez & Alex Rodriguez May Never Get Married For This Surprising Reason
Jamie McCarthy/Getty Images Entertainment/Getty Images
Pop star Jennifer Lopez and retired Major League Baseball player Alex Rodriguez have been dating for well over a year now, and TBH, I don't hate it. They seem to complement each other really well, they stay out of the public eye as much as two incredibly famous people can, and overall, it just looks like they make each other really, really happy. So naturally, when we see a celeb find their forever bae, our first instinct is to wonder if wedding bells are on the way. But it looks like that may not happen anytime soon, and the reason Jennifer Lopez and Alex Rodriguez haven't gotten married already actually makes a ton of sense.
A source told Us Weekly that, while the pair have "talked about" getting married, J.Lo has done the whole marriage thing and doesn't know if she's ready for a fourth wedding. "They were ready to get married early on and talked about it," the source said. "But Jennifer decided she wants to do it differently this time. She's been down the marriage road and doesn't know if she wants to do it again… Everything is working out so well, she doesn't want to jinx it or change anything."
Totally understandable, in my opinion! Elite Daily reached out to Lopez and Rodriguez about the report, but did not hear back by the time of publication.
A second source revealed that Lopez and Rodriguez "already act like they're married" and have done something almost more important than getting a marriage license: they've combined their finances.
That's no chump change, either.
The second source added, "They are very happy and have a great relationship. They're committed to each other and their families, and that's what matters most."
And it's clear that family is definitely a big piece of what makes their bond so tight. In an interview on Cubby and Carolina in the Morning radio show in July, Lopez talked about how she and Rodriguez are at a certain point in their lives where settling down and enjoying time together alongside their children is key. She said:
I think we're both in a good place in our lives. And I think maybe if we would have met in our 20s, maybe not so much… we were both… we're too crazy. But now at this point in our lives where we both have kids, we both have accomplished certain things in our careers and we're kinda in that second act of our lives, we really complement each other. It's like, where I need help, he's really strong and where he needs help I'm really strong.
OK, well, that's too precious for me to even comprehend right now.
She also talked about just how well their children — twins Max and Emme from Lopez's previous marriage to Marc Anthony, and daughters Ella and Natasha, from Rodriguez's previous marriage to Cynthia Scurtis — get along together.
"Honestly, it couldn't be better," Lopez said. "The four of them are amazingly special kids. I mean, of course I'm going to say that because I'm their mom, but they are and they're sweet and they're loving and they deal with us and our lifestyle in such a great way. And they love each other, they get along so good."
So there you have it. Just because A-Rod hasn't put a ring on it doesn't mean they're not already one big happy family.