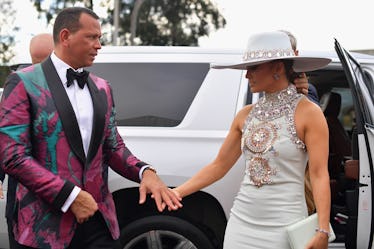 Here's Why J. Lo & A-Rod Fans Should Be So Excited About Their Grammys Body Language
Matt Winkelmeyer/Getty Images Entertainment/Getty Images
There are plenty of couples in Hollywood who seem to have it all going for them, but no couple seems to complement each other quite like Jennifer Lopez and Alex Rodriguez do. In the two years since they've publicly been together, Lopez and Rodriguez are constantly showing each other plenty of affection on social media and supporting each other at big events. Don't believe me? Check out Jennifer Lopez and Alex Rodriguez's body language at the 2019 Grammys, because it's proof that these two are totally there for each other through it all. You'd think they've been together for 20 years, instead of just two!
At Sunday night's Grammys, Lopez was out in full force. Not only did she serve some serious fashion looks on the red carpet, but she also took to the stage to belt out a highly talked-about Motown performance. Rodriguez was all over his lady on the red carpet, but you should've seen his face as he watched her on stage doing her thing. Seriously, his picture belongs in the dictionary next to "Doting Partner."
Considering how in love the two seem on social media and at public events, does their body language reflect the personas they portray? Do J.Lo and A-Rod have what it takes to make their love last? Body language expert Patti Wood breaks it down, so read on.