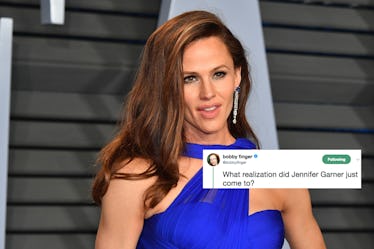 Jennifer Garner Responded To That Oscars Meme About Her & It's So Hilarious
The Oscars always provide us with a new set of memes to last us through the year, and I, for one, am hella grateful for that. One of the best memes to come out of the 2018 Oscars was the video of Jennifer Garner applauding someone's win, and then having some kind of epiphany all on camera. Twitter user @BobbyFinger tweeted a video of the moment and captioned it, "What realization did Jennifer Garner just come to?" It went viral, and Jennifer Garner's response to her Oscars meme is just as funny as the meme itself.
Garner, who is making a return to TV soon in a Lena Dunham/Jenni Konner-created comedy, flexed her own comedy chops on her Instagram story on March 5 by making three fake realizations for the hilarious video. In the first video meme on her story, Garner said, "Congrats to Shape of Water! Maybe I should date a fish..." In the second, she made fun of her own Capitol One commercials and said, "Hey, Jimmy Kimmel, what's in your wallet? Wait... where is my wallet?" In the third, she said, "Can't wait to work with Lena Dunham! Wait... did I sign a nudity waiver?"
Oh, Jen. What a gem you are.
This is hands down my favorite meme of the 2018 Oscars. It was just one of my tops, not the top, before Garner responded to it, but her Instagram story pushed this meme into first place in my eyes. Jennifer Garner did that.
Garner is returning to TV on Lena Dunham and Jenni Konner's upcoming HBO series Camping. Garner is set to star in the sitcom, marking her first TV show since Alias ended in 2006. The show is based on a U.K. show of the same name and will show Garner playing a woman who's trying to plan a birthday weekend for her husband that goes horribly wrong for a number of reasons, according to Variety.
Garner talked about the upcoming project on the 2018 Oscars red carpet.
When asked about the show and her return to TV, Garner said,
I am so excited. I met with Lena and Jenni this morning, and we were geeking out about how excited we are to all be together. They said they have a ton of physical comedy for me to do, and I just can't wait to be a part of a group people going to work to laugh all day.
She also revealed that the inspiration behind her decision to go back to TV after years away from it was Lena Dunham and Jenni Konner's writing. "It was the Lena/Jenni combo," she said. "The scripts were just so funny and so good, and I'm really ready to go to work and laugh." Is that not the most pure (and also kind of sad) thing you've ever heard?! Has Jennifer Garner never laughed on a film set before?! Someone let Jennifer Garner laugh!! Even if she has never laughed at work, Garner made us laugh at the Oscars and on the internet after.
People were tweeting what they thought Garner's epiphany was all throughout Oscars night, and the tweets are hilarious.
But what most people can't get over is how much Garner was glowing on the Oscars red carpet. This was Jennier Garner's 2018 Oscars look:
A queen in her own right!!
Fans were basically like, "Ben Affleck, who?!"
So basically, Jennifer Garner seems to be living her best life nowadays and her Oscars look and following Instagram stories prove it. There's no set premiere date for Garner, Dunham, and Konner's Camping just yet, and it seems like they haven't even started filming. But you can bet I'll be watching it in order to share in Jennifer Garner's joy that she finally gets to go to work and laugh. LOVE YOU, GIRL. Now here's the iconic GIF one more time for good measure: