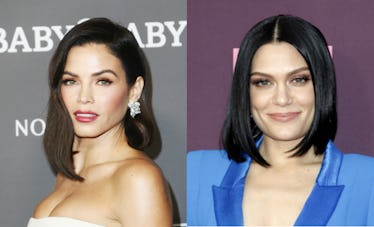 Jenna Dewan & Jessie J Shut Down All Those Comparisons With These Supportive Messages
Tibrina Hobson/Getty Images Entertainment/Getty Images/Tommaso Boddi/Getty Images Entertainment/Getty Images
Now that everyone has had time to come to terms with the fact that Channing Tatum and Jenna Dewan are over for good, Step Up stans can move on and accept the new people who are reportedly in each of their respective lives. Need even more reason to be supportive of Tatum's and Dewan's new relationships? Dewan herself has been open about sharing a message of positivity with Tatum's reported new girlfriend, Jessie J. Jenna Dewan's response to Jessie J slamming comparisons of them is all about keeping it positive and lifting up other women. Elite Daily previously reached out to Tatum's and Jessie's teams for confirmation on their rumored relationship, but did not hear back by the time of publication.
On Friday, Nov. 16, Jessie J. shared an honest and open message about people comparing her physical looks to Dewan, Tatum's ex. In Jessie J.'s heartfelt Instagram post captioned with only a thought bubble emoji, she shared screenshots of a message written on her phone, per Cosmopolitan.
Seemingly referring to Dewan, she shared,
...there is a story I have seen be rewritten over and over again in the past few weeks that talks about myself compared directly to another beautiful woman regarding our looks and people picking who they think is prettier.
She then goes into trying to figure out what the purpose of these stories might be, noticing that it's mostly negativity that arises from them. She points out, "You only have to look at a few of the comment to see that these stories are not inspiring women support women but mostly women ripping other women down."
After condemning that type or behavior, Jessie J ended her message with,
Alone ladies, we are strong. But TOGETHER?! US WOMEN can truly CHANGE THE WORLD ❤️
Her clap back to the ridiculous comparisons is so much more than a "screw you." Jessie J. served up straight-up truth and an inspirational message to boot.
So, what did Dewan have to say about that? She is team positivity all the way. Per Us Weekly, in a tweet shared on Friday, Nov. 16, Dewan captioned a message of her own with, "Beautiful message, [Jessie J.] ❤️ #womensupportwomen #respect." She also wrote,
Amen Jessie! Yes!!!! Women for women all the way. No need for negativity. Let's live in a world where we support each other and raise each other up. Like i said before, positive vibes all the way. Nothing but respect.❤️
OK, I am seriously here for these "positive vibes only" messages coming from Dewan and Jessie.
Jessie J.'s message on Friday was five photos of a screen-grabbed message, and you can check it out in full on her Instagram account.
Some of the other highlights from her super positive message include when she shared, "...I am a woman that supports ALL women. I am a woman that loves ALL women and will not stand quietly when the media is teach young girls to constantly compare one another. Or to pick who they think is prettier....Be sensitive with your words. Be kind with your words. You have no idea what they can to do someone."
It's seriously so refreshing to see Jessie J. and Dewan silence the noise surrounding their situation, and instead voice their own messages of positivity and respect. Seeing as though Dewan also previously shut down the comparisons that arose on her own IG on Monday, Nov. 12, it seems pretty clear that there is no bad blood between her and Jessie J. Plus, Dewan has reportedly moved on with a new beau of her own, actor Steve Kazee, per Entertainment Tonight. Elite Daily previously reached out to Dewan's and Kazee's teams for comment on the dating reports, but did not hear back by the time of publication.
When it comes to moving on after the end of Dewan and Tatum's marriage, it seems like all parties involved are sticking to the message Dewan left for IG followers on Nov. 12, "Positive vibes all the way 😘."