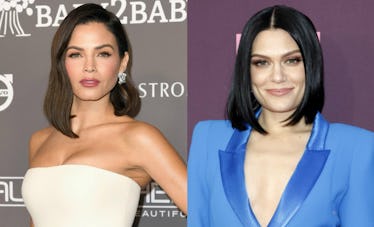 Jenna Dewan Just Responded To Fans Comparing Her To Jessie J With A Powerful Message
Emma McIntyre/Getty Images Entertainment/Getty Images | Tibrina Hobson/Getty Images Entertainment/Getty Images
Jenna Dewan isn't here for your negative vibes, especially if they're directed at her ex Channing Tatum and his new gal Jessie J. Dewan recently posted a photo to Instagram that was so striking that fans started comparing her beauty to Jessie J's. And Dewan wasn't having it. Jenna Dewan's response to fans comparing her to Jessie J proves she's all about those positive vibes!
On Monday, Nov. 12, Dewan posted a photo of herself on the red carpet for the 2018 Baby2Baby Gala. In the photo, she's all glammed up and looking quite beautiful. And that, apparently, prompted fans to start comparing Dewan to Jessie J. While both stars are beautiful in their own right, fans are taking issue with the fact that some people believe Dewan and Jessie J resemble each other.
One fan, in particular, spoke their mind in the comments of the photo, writing:
FIRST OF ALL ☝🏼....whenever I hear of the "striking resemblance" w/ Jessie J to Jenna Dewan ..my only thoughts are ummmmm no 😂 not even close," the fan wrote. "And I don't have a horse in the race but gf you are untouchable. Just trying to spread positive vibes, keep doing you...to an absolute outsider from a small town you are doing it seemlessly ❤️
Another fan chimed in to say that they agreed.
Me too! It's an absolute insult to Jenna's beauty - inside and out!" they said. "He'll never find another Jenna; she a once in a lifetime kind of woman ❤️
And those comments prompted Dewan to respond with the only response that was appropriate for a situation like this.
"Positive vibes all the way 😘," Dewan wrote.
Clearly, Dewan wants to make sure her fans treat Jessie J with respect which is really admirable of her. Once Dewan made her stance on the topic known, some fans followed suit and tried to encourage other fans to be a little less critical of Jessie J's appearance.
"Both women are beautiful so the notion that one has to be better than the other is ridiculous & why women have self esteem issues bc women make comments like this," one fan said. "Especially when there's room in this world for everyone to shine including yourself."
Another fan took it even further and called for fans to be civil when posting comments on Dewan's Instagram account.
"Although I would agree @jennadewan is an amazing woman, I'm not sure why this needs to be said," the fan wrote. "@jessiej is an equally beautiful talented woman and who says Channing is trying to "replace" her?? They are both moving on and attempting to find happiness! I would think you would be pointing this out Jenna! Please ppl let's be civil here and mature..... 😘"
So, Dewan has definitely gotten the conversation started as far as positivity and uplifting women is concerned. And that's amazing when you really think about it! Dewan obviously doesn't have any bitterness about her ex moving on with another woman. And why should she? She's reportedly moved on as well.