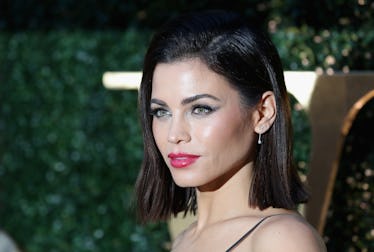 Jenna Dewan's Quotes About Channing Tatum In Her 'Cosmopolitan' Interview Are So Honest
Gabe Ginsberg/Getty Images Entertainment/Getty Images
ICYMI, Jenna Dewan and Channing Tatum filed for divorce in October 2018. The end of any relationship is sad and hard to swallow, but while many of their fans (including me, hi) probably spent days mourning the end of their relationship, the two have been nothing but gracious about it in the public eye. Now that it's been eight months since they announced their split, Jenna Dewan's quotes about Channing Tatum in her Cosmopolitan interview are extremely revealing, and very honest.
Dewan opened up to the magazine in an interview for their January 2019 issue (for which she graced the cover), and spoke candidly about her split from Tatum, whom she was married to for nine years, and how she's been doing since then. Their split definitely shocked fans around the world, and though they've both been seen with reported new baes (Tatum with pop singer Jessie J and Dewan with actor Steve Kazee), neither of them have verbally discussed their new, reported relationships. Well, almost. Dewan seemed happy to dish on her rescue pup, Cosmo. "He's really sweet," she told Cosmopolitan. "He gives me lots of kisses."
So really, between her new pup and her reported new man (who recently posted a very cute birthday tribute to his Instagram), the successful actress, dancer, and mother seems to be doing well. But that doesn't mean that she's immune to feeling the natural sadness that comes with a split — feelings that she was very open to sharing in her interview with Cosmopolitan.