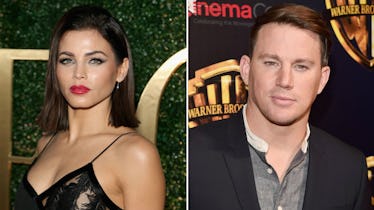 Jenna Dewan Posted A Supportive Message To Channing Tatum After His Friend's Death
Gabe Ginsberg & Alberto E. Rodriguez/Getty Images Entertainment/Getty Images
Channing Tatum is mourning a childhood friend. The actor shared a touching message about his lifelong friend Corey Vaughn who died on Tuesday, Aug. 21, according to Heavy.com. Based on his post, Tatum knew Vaughn for nearly 30 years. No cause of death has been released to the public yet, but the wake reportedly took place on Sunday, Aug. 25. Leading up to the somber event, Tatum took to Instagram to share his friendship story with Vaughn and post an old throwback photo. Tatum's ex-wife also commented. Jenna Dewan's message to Channing Tatum after his friend's death shows her support during this sad time.
Tatum shared his tribute via screenshot of a long, thoughtful message along with a childhood photo of himself and Vaughn in football uniforms as kids. He captioned the post: "Rip Corey I'll never forget your crazy ass. I love you with all my heart. All my prayers to your beautiful family." The message was a lengthy detailing of the kind of friend and person Vaughn was and what he meant to Tatum, particularly during his youth. Tatum wrote: "My sister Paige posted something recently I wanted to build on as well. My very first best friend Corey Vaughn left this world for the next this Tuesday the 21st. Man there's so much to say."
The message continued,
I'll never forget his crazy ass and how he stuck up for and protected me when I first moved to Mississippi. He'd a fought anybody. All the laughs and trouble we got in. I'll never be able to see that smile of his again in this life. And it just made me need to remind everybody don't put off anything. Seeing a friend, or even calling or texting. You never know what's next.
Tatum signed off by writing: "Corey would have want us to laugh and raise hell in his wake and have as much joy as anyone can make. He sure did. And I'll forever miss ya man. Love ya my brother."
To show her support, Dewan, who presumably met and knew Vaughn too, commented on Tatum's post. She wrote, "Rip Corey I'll never forget your crazy ass. I love you with all my heart. All my prayers to your beautiful family."
Dewan and Tatum announced their divorce in April 2018 with another thoughtful social media message explaining they still love one another but are "taking different paths for now." Today, they maintain they're still friends who have a happy and healthy relationship co-parenting their daughter.
During a July interview with Women's Health, Dewan explained, "It's always challenging to go through a big change and have the whole world have an opinion about it." But, she added,
It's OK for a relationship to change into a new form that is actually better for both people involved, and I think maybe that's what shocked everyone so much—that it can be a positive thing. That was ultimately what happened with us.
Of course, fans are offering their own support and condolences to Tatum and Vaughn's family during this hard and sad time.