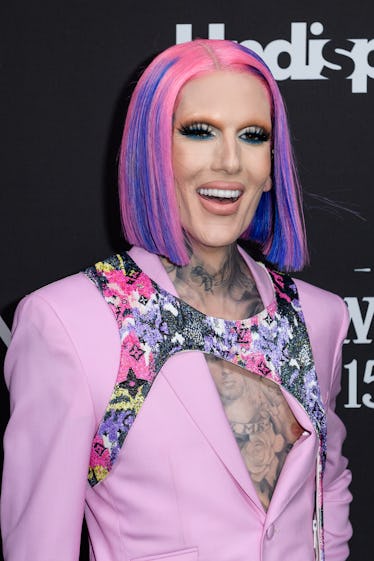 Here's Who Reportedly Slid Into Jeffree Star's DMs After The Kanye West Rumors
Jason Koerner/Getty Images Entertainment/Getty Images
As if Kim Kardashian West and Kanye West's reported plans to divorce needed another plot twist, Jeffree Star's response to rumors he's dating Kanye West is here to throw you for a loop. On Jan. 6, Star took to Instagram to post two selfies of himself all glammed up with the caption, "I'm ready for Sunday Service." He also posted a selfie with the same caption to his Twitter feed. Sunday Service is a reference to West's musical ministry services he holds on Sundays.
Although there's little to no evidence that West and Star are dating, the rumor sprung up on TikTok after news of Kardashian and West's reported divorce broke on Jan. 5. In a video posted on Jan. 6, a TikTok user who goes by @realavalouiise claimed, "Now that Kim's finally [divorcing West], I feel like I can spill the tea I've been holding onto for months. This whole divorce comes as no surprise. Kanye's been hooking up with a very famous beauty guru. Male beauty guru. A lot of people in the scene have known for a while."
While @realavalouiise didn't name the beauty guru, it didn't take long before users on TikTok and Twitter assumed she was hinting at Star. Elite Daily reached out to reps for West and Star for comment on the rumors, and did not hear back in time for publication.
The makeup artist is currently living in Casper, Wyoming, while West is spending time at his ranch approximately 200 miles away in Cody, Wyoming. The celebrities also both own homes in Hidden Hills, California.
Tweets began to circulate about Star and West's rumored relationship.
But, um, the rumors are most likely not true. "There is absolutely no truth to Jeffree and Kanye rumors," a source reportedly told E! News on Jan. 7.
Star himself addressed the rumor in a YouTube video posted on Jan. 7, calling it "the dumbest sh*t." The beauty influencer explained, "I'm single, I'm not sleeping with anyone, this is so weird."
On Jan. 13, Star doubled down on his denial of the West rumors. "I'm definitely NOT sleeping with Kanye, but the amount of rappers in my DM's is wilddddd b*tch," he tweeted. "Time to make a hit song in bed."
Despite his reportedly flooded DMs, Star isn't limiting his love life to just rappers. "I'm about to go on my second date with this guy later today," he tweeted on Jan. 13. "He's a police officer and has the most stunning green eyes."
Star's a busy man!
Editor's Note: This article was updated twice to include Star's Jan. 7 YouTube video and Jan. 13 tweets.
This article was originally published on