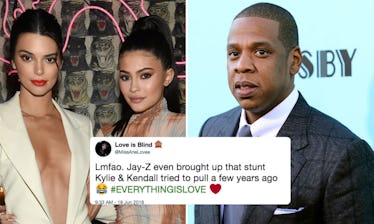 JAY-Z May Have Shaded Kylie & Kendall Jenner On 'Everything Is Love' & Fans Are Losing It
Dimitrios Kambouris/Getty Images; Stephen Lovekin/Getty Images
Shade is par for the course when it comes to pop culture. No matter the caliber of celebrity, they're bound to have beef with somebody. It's just human nature. But shade is amplified exponentially when it involves big names like JAY-Z, Beyoncé, and Kylie and Kendall Jenner. As you probably know by now, JAY and Bey surprise dropped a joint album on June 16 called Everything is Love that's garnering praise from all corners of the earth. What you probably don't know is that JAY-Z shaded Kylie and Kendall Jenner on Everything Is Love, according to fans.
The song in question is called "Friends" and in it, JAY addresses the fallout he had with fellow rapper and collaborator Kanye West:
I ain't going to nobody for nothin' when me and my wife beefin'/ I don't care if the house on fire, I'm dyin', n****, I ain't leavin'
These lyrics are seemingly in reference to JAY and Bey missing out on West's marriage to Kim Kardashian. Back in May 2018, in an interview with radio personality Charlamagne tha God, West expressed his disappointment over not seeing JAY and Bey at his wedding:
I was hurt about them not coming to the wedding, I understand he was going through some things, but if it's family, you're not going to miss a wedding.
So, basically, JAY laid out his reasoning for not showing up in "Friends."
But he also took it one step further by seemingly calling out Kendall and Kylie Jenner:
Y'all put n*ggas on a T-shirt, it hurt you ain't never meet 'em
Here, fans thing JAY is talking about the time, back in 2017, when the Jenner sisters were called out and sued for putting images of Tupac and Notorious BIG on T-shirts with their own faces superimposed over the iconic rappers. People were livid, and understandably so. The shirts were selling for upwards of $125 and people felt that the Jenners were using the rappers' images to make a quick buck. Unfortunately for them, that business plan didn't last long.
In any case, JAY is apparently addressing the incident in his lyrics and that has fans on both sides going wild on social media.
A lot of people are really invigorated by JAY and Bey's willingness to speak their truths, even if it means calling out some famous names:
And then there are those fans who are saddened by what they perceive to be an imbalance in the West/JAY-Z relationship:
There really aren't too many of those types of fans, though.
By and large, there's been huge amounts of praise heaped on JAY and Bey for releasing this joint effort and for calling out West and the Jenners. But some people aren't convinced that the alleged shade directed at the Jenners is actually about them.
There are those who think that specific lyric is all about Meek Mill, who JAY campaigned to get out of prison with T-shirts bearing his face and all. Here's one fan who laid it out for everybody:
And the lyrics that go with that:
When I say free the dogs, I free 'em / That's how Meek got his freedom / Y'all put n*ggas on a T-shirt, it hurts you ain't never meet 'em / You got n*ggas in the feds, you ain't even tryna feed 'em / I'm tryna free the world, that's how deep I'm in
So, while the majority of people have the youngest Jenners in mind, it could very well be that JAY intended those lyrics to reference Meek Mill... in a non-shady way.
Well, whoever the song is about, it's sure gotten a lot of people talking. No such thing a bad press. Isn't that what they say in Hollywood?