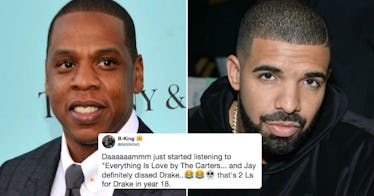 JAY-Z Shaded Drake On 'Everything Is Love' & No 'Degrassi' Reunion Could Soothe This Burn
Stephen Lovekin/Getty Images Entertainment/Getty Images | Grant Lamos IV/Getty Images Entertainment/Getty Images; Twitter
JAY-Z has a lot of scores to settle. And if his new album Everything is Love, which is a joint effort with wife Beyoncé, is any indication, then he's using music to do it. The new album was released on Saturday, June 16, and in the days since, fans have been unpacking all the hidden meanings of its content. And now there's a new development: in addition to calling out Kendall and Kylie Jenner and Kanye West, JAY-Z shaded Drake on Everything Is Love as well. So, the famed rapper is 100% ready to ramp up the news cycle and get a few words in.
JAY-Z and Drake have exchanged quite a few words over the years. The first of their troubles started way back in 2016 when Drake released "Summer Sixteen", a song in which he claimed he was on JAY-Z's level:
"Oh it's your time now" yeah, that's what everybody say / I used to wanna be on Roc-A-Fella then I turned into Jay / Now I got a house in LA, now I got a bigger pool than Ye / And look man, Ye's pool is nice, mine's just bigger's what I'm saying
Now, obviously, no living rapper today is more legendary than JAY-Z. He's a complete master at what he does. That Drake would dare to say he's on JAY's level wasn't taken lightly. To make things even more complicated, Drake also slighted JAY in a business arrangement.
Later on, in 2016, Drake struck a deal with Apple instead of JAY-Z's Tidal. As you can imagine, the two streaming companies are fierce competitors and Drake's choice of platforms apparently hit JAY-Z right at his core.
He even seems to have rapped about all this in the song "Boss", which is featured on Everything is Love. Here are some of the shadiest lyrics:
N----s rather work for the man than to work with me / Just so they can pretend they on my level, that s--t is irkin' to me
Um, wow. JAY really went there. Can you blame him, though? He's creating an empire and doing all he can to bring talented people along with him ...and Drake rejects him? Unfortunate.
But JAY-Z isn't letting that get in the way of making sure his side of the story is told. In "Boss", he continues:
Pride always goeth before the fall, almost certainly / It's disturbing what I gross / Survey says you not even close / Everybody's bosses 'til it's time to pay for the office / To them invoices, separate the men from the boys, over here
This, too, is in reference to Drake's antics. In May 2018, Drake famously sent rapper Pusha T an invoice for $100,000. Can you guess what the invoice was for? Reviving Pusha T's career. Seriously.
So, JAY-Z is definitely calling Drake out for his silliness. But, as you probably know, Drake isn't the only famous name JAY-Z has called out in his new music.
In a song entitled "Friends", JAY is also believed to have called out Kylie and Kendall Jenner for putting Tupac and the Notorious B.I.G. on t-shirts:
Y'all put n---as on a T-shirt, it hurt you ain't never meet 'em
The t-shirt incident happened back in 2017 and the Jenner sisters received a lot of criticism for superimposing their own faces over Tupac and B.I.G. So, JAY-Z probably wasn't happy about that.
As fans are quickly finding out through JAY's new music, the rapper isn't happy with a lot that's going on in the industry. But at the very least, he's making his voice and his opinion known. And now the whole world knows where he stands. I have a feeling JAY will be calling even more people out as he releases more music.