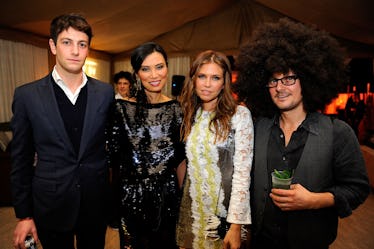 Jared Kushner's Brother Reportedly Donated A Lot Of Money To March For Our Lives
Andrew H. Walker/Getty Images Entertainment/Getty Images
While Jared Kushner continues his work in a White House that has begun to back away from supporting restrictions on gun sales, Kushner's brother, Joshua Kushner, is reportedly contributing to a cause that is going in the other direction. Jared Kushner's brother has reportedly donated money to the March For Our Lives, according to an Axios report published on Sunday, March 11. The March For Our Lives in a demonstration scheduled to take place on Saturday, March 24, when hundreds of thousands of people are expected to protest in favor of gun control legislation.
The sum of Josh Kushner's reported donation to the march is $50,000, according to Axios. The march is being organized by a group of survivors of the February 14 shooting at Marjory Stoneman Douglas High School shooting in Parkland, Florida.
Elite Daily has reached out to the Josh Kushner for comment, but has not heard back by the time of publication.
The March For Our Lives is far from the first left-leaning movement that has been financially supported by a member of the Kushner family, which has a long history of donating to Democrats, Jared Kushner included.
Between 1998 and 2014, Jared Kushner contributed over $100,000 in donations to Democratic candidates and Democratic Political Action Committees (otherwise known as PACs), according to an analysis from The Washington Post, which cited dated from the Federal Election Commission (FEC).
That sum of contributions included $11,000 towards Hillary Clinton and a Clinton-associated PAC, compared to just $1,000 toward Republicans over the same span of time, per The Washington Post.
The patriarch of the Kushner family has been known to donate money to Democratic candidates as well.
When Jared and Josh's father, Charles Kushner, was sentenced to two years in prison in 2005, The New York Times noted Charles as "one of the top Democratic donors in the country."
Months after former President Bill Clinton left the White House in 2001, Kushner Companies paid the Democrat $125,000 for a speech at the company's headquarters in New Jersey, according to Forbes.
As for Josh Kushner, the 32-year-old younger brother of Jared, he has not been quiet about supporting liberal causes, even after his brother entered the White House. Josh, who didn't vote for President Donald Trump, spoke to Forbes for the magazine's April 2017 cover issue about learning of Trump's upset election win while flying to San Francisco.
"I was surprised," Josh told Forbes. "But not as surprised as the other passengers sitting around me."
Later in the interview, Josh Kushner also added, "It is no secret that liberal values have guided my life and that I have supported political leaders that share similar values. But neither political party has a monopoly on the truth or on constructive ideas for our country. It's important to be open minded and learn from differing opinions."
A day after Trump was inaugurated, Josh Kushner was photographed attending the Women's March on Washington. The 32-year-old is reportedly dating 25-year-old model Karlie Kloss, who also did not vote for Trump, according to New York Magazine's The Cut.
Now, Josh Kushner's most recent reported show of financial supported is devoted to gun control, with $50,000 of his money reportedly going towards the soon-to-be-held March For Our Lives.
"We cannot allow one more child to be shot at school. We cannot allow one more teacher to make a choice to jump in front of a firing assault rifle to save the lives of students," the march's website states. "We cannot allow one more family to wait for a call or text that never comes. Our schools are unsafe. Our children and teachers are dying. We must make it our top priority to save these lives."
Given the Kushner family's history of donating to liberal causes, it probably won't be the last time Josh contributes to a cause that conflicts with the Trump White House's agenda.