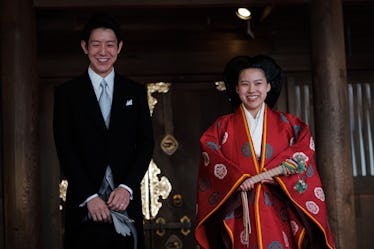 Japan's Princess Ayako Just Gave Up Her Royal Status For The Most Romantic Reason
If you think fairytale romances are just for Disney movies and storybooks, then you obviously haven't heard about Princess Ayako and Kei Moriya's wedding. It's a heartwarming tale of a young woman who was willing to make a massive sacrifice in order to marry for love. By marrying a commoner, the princess was forced to forfeit her royal status.
Let's take a step back and start from the beginning of this whirlwind love story. Once upon a time, a princess was introduced by her mother to a shipping executive with a master's degree in social welfare, according to The Daily Mail. Little did that bride's mother, Princess Hisako, know that she would fall in love with that man, who's name is Kei Moriya, become engaged to him only eight months later (on August 12 2018, to be exact).
True love didn't come without a sacrifice for the Princess. Japan's current Imperial Household Law states that if a woman marries a commoner, they will lose their royal status (along with their allowance) as a result. By the way, this law doesn't apply to men (*sigh*, I know. The patriarchy.)
Still, while Princess Ayako — the youngest child of the late Prince Takamodo, cousin of Emperor Akihito, and Princess Hisako — may have officially forfeited her title the minute she exchanged her vows with her new husband, she still received a bonus check from the Japanese government for nearly a million dollars to cover her living expenses upon leaving the royal family. So, not a terrible deal, IMHO.
And it was a gorgeous wedding, to say the least. The intimate affair, which only included about 30 family members, was held in a Shinto ceremony at the Meiji Jingu shrine in Tokyo. The Meiji shrine has a special significance, too: It was built in 1920 to honor the souls of the Princess' great-great grandfather Emperor Meiji and his wife, Empress Shoken, who are still worshipped there.
Ayako may have broken tradition in marrying a commoner, but she stayed true to many style conventions typical of a Japanese royal wedding. The Princess stunned onlookers in a pale yellow traditional court kimono with red flowers and green leaves embroidered on it, and a rich purple hakama (wide-leg ankle-length pants) underneath. Her hair was styled in an elegant osuberakashi — a traditional look for noblewomen. Meanwhile, Moriya sported a black morning coat, charcoal pin-stripe pants, and to top it all off, a family heirloom: A silk hat that belonged to his bride's late father (I can't, you guys.)
In addition to exchanging rings and vows, the couple also participated in a number of rituals that are typical of a Shinto-style wedding, such as exchanging matrimonial sake cups. While reporters interviewed them afterward, Moriya gushed that his new wife looked "beautiful." According to CNN, he said, "I would like to support her firmly and, hand in hand, build a happy family with lots of laughter," (aww!). Princess Ayako said she felt "blessed," and stated that she will continue supporting the imperial family despite leaving it. Because #loyalty. (Seriously, how classy can you get?)
For the record, this is not the first time a Japanese royal shunned expectations to marry someone within the bloodline. Princess Mako, the Emperor's eldest granddaughter, is also currently engaged to a commoner — her college sweetheart, to be exact. That wedding is reportedly slated to take place in 2020.
So, is this a new trend? Royals marrying us ordinary folk? A girl can dream, I suppose.