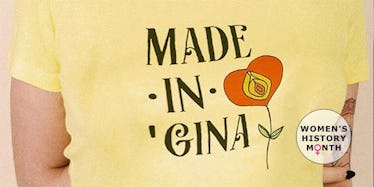 8 Ways To Wear Your Resistance Against The Patriarchy While Also Giving Back
In my opinion, the best way to resist the patriarchy is to get right to the point.
What better way than letting someone know what you believe in than wearing it for all the world to see? Shopping is fun, but Millennials are more into spending money on experiences. That's why shopping in support of a cause is the perfect way to stay connected to larger movements.
Today, on International Women's Day, there's no time like the present to keep an eye out for brands and products where proceeds go toward helping women.
Here are eight ways to resist the patriarchy, while also looking cute AF. Stay motivated, my friends.
Valfré went from modest startup to a brand that generates a projected $2.5 million in revenue. It sells women's clothing inspired by the artistic taste of its founder, Ilse Valfré.
The founder told Forbes,
Valfré has become more than just a brand; it has become a community of creative woman who enjoy art and the world around it.
Now, the company is using its influence to give back. Valfré donates 20 percent of its sales of select products to both the American Civil Liberties Union and Planned Parenthood.
2. Unbound's Ally Pin
The ally pin allows you to showcase your favorite charities with pride, and mix and match the ones most important to you.
Unbound is donating 100 percent of proceeds from each pin sold. You can dress your pin with a women's (Venus) symbol, representing Planned Parenthood, a recycling symbol, representing Natural Resources Defense Fund or get all seven charms for $69.
3. Etsy/MadredeOlivia
After Elizabeth Warren was silenced on the senate floor, "Nevertheless, she persisted" became the next #nastywoman battlecry.
Etsy designer Tamara Mello placed the iconic quote on a bangle, so you can have a daily reminder of strength every day.
According to MadreDeOlivia's Etsy page, a portion of the proceeds from this bracelet will go to Planned Parenthood.
4. Thistle Farms
This Nashville-based company began as a housing project for women who were survivors of sex trafficking and addiction.
Now, it hires graduates of its residence to help operate the company, which generates $2.5 million in revenue annually, according to The Tennessean.
The company has said,
We're not growing into all of this because we love making candles. We're doing this because the more candles we make and sell, the more jobs we can offer.
The centerpiece of Thistle Farms' products is its catalogue of bath and body items.
5. HopeXAction
If there's anything the Trump Administration has taught us, it's that insane rhetoric often makes for hilarious t-shirts. Trump's infamous "fake news" spiel is the perfect slogan for this HopexAction tote, which donates 100 percent of proceeds to the ACLU, Planned Parenthood and more.
This tote is $22.50 on Etsy.
6. Sseko
This Uganda-based company creates sandals and handbags, all while helping to create opportunities for women in the country to go to college.
According to the New York Daily News, Sseko employs young African women and helps them save half their earnings for college. The company matches those earnings, which are later used by the women to pay for college.
Sseko boasts on its website,
And it has worked! Every woman who has graduated from Sseko is currently pursuing her college degree or has graduated from university and is on her way to making our world a more beautiful place. To date, we have enabled 87 women to attend university — and we're sending our biggest class to date (fifteen) this year!
The company's "ribbon sandals" sell between $50 and $65.
7. Outrage
Outrage is true to its name and sells products for women who are, well, outraged.
There are beanies, shirts, bags and more that allow you to make a statement while giving back. A minimum of 15 percent of profits made on all orders goes directly to organizations that fight for women's rights.
8. Purpose Jewelry
Purpose Jewelry employs women who have been rescued from modern-day sex slavery. It operates in both Mumbai, India and Orange County, CA.
The company uses its proceeds to help fund nonprofit organization International Sanctuary, which helps women reintegrate into society after experiencing sex trafficking.
Many of Purpose Jewelry's pieces range between $30 and $40. Some of the pieces – like the company's "dusk drops" – were handcrafted by survivors.
Most companies are showing their support for the ACLU or Planned Parenthood, but there are many local and worldwide organizations that benefit women in so many ways.
If you can't find something donating to a cause you're interested in, start your own product. A few friends got together to make this Ted Cruz shirt, which raised over $69,000 for abortion funds in Texas.
The limit does not exist.