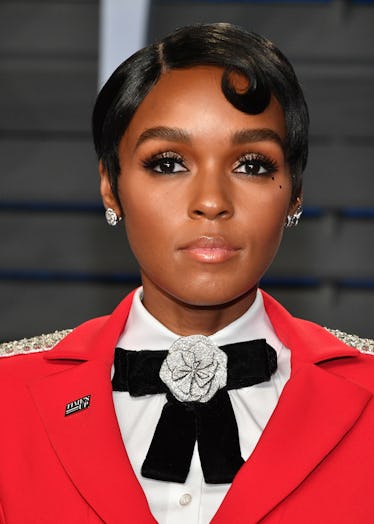 Janelle Monáe Came Out As Queer & Her Quote Will Make You Smile So Hard
Dia Dipasupil/Getty Images Entertainment/Getty Images
The way I see it, there are two types of celebrities. In the first category, we have the celebs who like to get ahead of the tabloids by openly volunteering to put every detail of their personal lives out there for the world to see (think: your Kim Kardashians). In the second category we have your more private celebrities who choose to keep their lips sealed about more private matters (think: your Jennifer Anistons). Until Janelle Monáe came out in an April 26 interview with Rolling Stone, she belonged to the latter group.
Aside from calling herself a "sexually liberated woman" in an interview with The Guardian earlier this year, Monáe has historically kept quiet about her own sexual preferences.
In fact, in an old interview with rapper/radio host Sway on his syndicated show Sway in the Morning, Monáe made it explicitly clear that she plans on keeping her personal life...well, personal:
You know what, I keep my personal life to myself. I think one of the things about that is that I want everyone to focus on my music and also I don't want to let anybody down. I want women to still be attracted to me – go get my album! And I want men to still be attracted to me so I have to be political in this. I can't really tell y'all.
That being said, the singer has also always been a huge supporter of the LGBTQ+ community. In the same interview she notes:
I am an advocate – I have friends who are in, you know, same-sex relationships and I think that love has no sexual orientation. Love has no religious beliefs. Love is the purest thing and one of the most important things that we can possess for ourselves and for others.
Despite her reluctance to openly speak out about her own sexuality, a few of Monáe's music videos have stirred up some rumors that she might be a member of the LGBTQ+ community, herself.
For example, in her video for "Make Me Feel," her character has both male and female love interests.
In the video for another one of her songs, "PYNK," Monáe displayed even more overtly LGBTQ+ undertones effectively stirring up more question around her own sexuality.
Finally, in a recent interview with Rolling Stone, Monáe decided to come forward once and for all and openly speak about her sexuality openly, clearly and honestly.
"Being a queer black woman in America," she told the reporter who noted she took "a breath" before uttering the next words, "someone who has been in relationships with both men and women – I consider myself to be a free-*ss motherf*cker." While Rolling Stone reports that she originally identified as bisexual, she eventually came to realize that pansexuality more accurately describes who she is. "But then later I read about pansexuality and was like, 'Oh, these are things that I identify with too,'" she said. "I'm open to learning more about who I am."
GLAAD defines pansexuality as "a person who has the capacity to form enduring physical, romantic and/or emotional attractions to those of any or all genders."
No person (famous or otherwise) is obligated to come out, but it's likely that many fans will find comfort in Monáe's public declaration of her sexuality. Representation matters. Congratulations to Monáe for finding the courage to come out so publicly! And here's to having us all do our part to make the world a safer place for people to live their truths.
Check out the "Best of Elite Daily" stream in the Bustle App for more stories just like this!