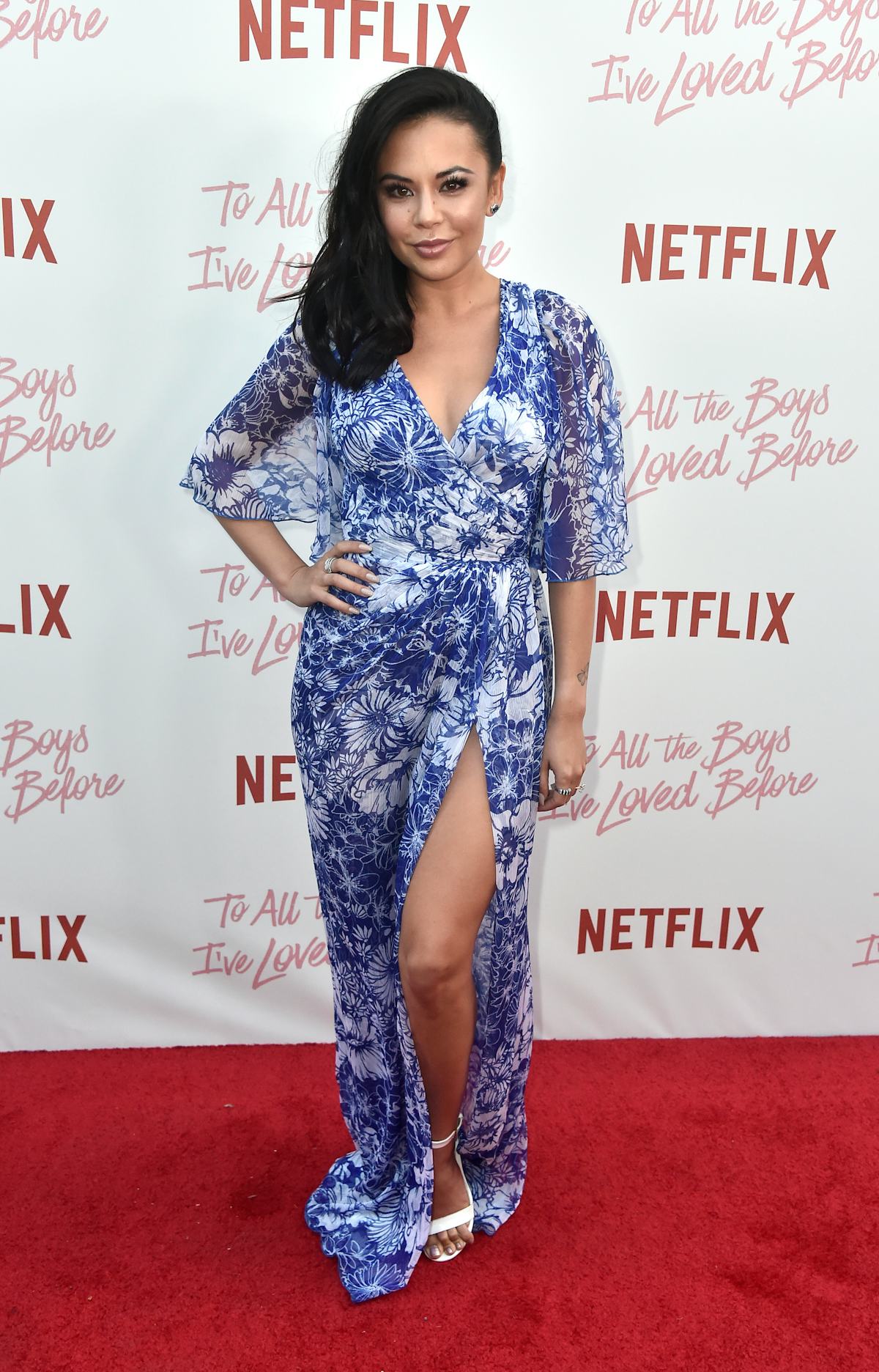 Janel Parrish Got Real About What It Was Like To Be Bullied In High School
Frazer Harrison/Getty Images Entertainment/Getty Images
As someone who grew up watching Nickelodeon and the Disney Channel, I was convinced the actors portraying my favorite TV characters were invincible. To me, these people were famous, and existed in a Hollywood bubble that made them untouchable. They'd probably never had to deal with the sorts of things I was, and would be dealing with, from elementary through high school — the pushing, the name-calling, the rumors. I realize now that celebrities, to an extent, really are just like us, and when I watched Janel Parrish's video about being bullied in high school, it was humbling, to say the least. The former Pretty Little Liars' story is proof that, no matter how talented you are, or how good of a person you might be, most people have a bullying story. But the only way to put a stop to more of them being written, is to choose kindness, always.
During a PEOPLE exclusive video, Parrish opened up about her experiences with bullying to shed more light on an anti-bullying PSA clip she recorded for Disney's #ChooseKindness campaign. In case you didn't know, October was named National Bullying Prevention Month back in 2006 by the PACER's National Bullying Prevention Center, in order to raise awareness about the very real issue of bullying that children and young adults are facing in the United States. Joining the cause, Disney launched the campaign in partnership with the Gay, Lesbian & Straight Education Network, the Gay & Lesbian Alliance Against Defamation, PACER, No Bully, and ESPN. Through this massive collaboration, and with the help of celebrities like Parrish, Carrie Underwood, Ryan Seacrest, and Leighton Meester, all of whom participated in their own video PSAs for the campaign, the hope is that individuals, communities, and schools will be inspired to become more proactive in the fight against bullying.
In the PEOPLE exclusive video, Parrish said she was bullied during her high school years because she was a "very theatrical girl" who "always wanted to do musical theater after school instead of hang out with the cool kids and go to the mall." But rather than internalizing the name-calling, and letting those who bullied her get the best of her, The Perfectionists actress made the conscious decision to disregard the negativity, and instead, take the high road. "Ultimately, at the end of the day, I think what made me different, is what makes me special. So, I embraced it, and I'm really glad that I did," she said in the video.
Of course, the six-time winner of the Teen Choice Award for Choice TV Villain is still human, so while she may have risen above her bullies, Parrish told PEOPLE that being called names, and having people make you feel like you're less than in any way, can make anyone feel self-conscious. Instead of letting bullies break you down, though, the actress told PEOPLE that it's so important to lean on the family and friends who build you up:
My family was my rock during this time when I was being bullied. I think it's so important to have people in your life who make you feel amazing, like you are everything that you should be and that who you are is enough.
It's extremely heartbreaking when you think about the amount of people who experience bullying, and to what lengths bullies will go to get under your skin. According to national statistics from StopBullying.gov, 28 percent of U.S. students in the sixth grade through their senior year of high school experience bullying, and of that percentage, 9 percent are bullied online. The resource goes on to note that the most common types of bullying are verbal and social, and that it generally takes place on school grounds, or through social media and technology.
What's more, according to a 2015 study published in the medical journal Archives of Disease in Childhood, bullying doesn't end with harassment: It can lead to serious mental health issues down the road that can potentially affect someone's ability to sustain a lasting relationship, have a healthy work-life experience, and can even affect how someone handles their finances later in life. So, in order to prevent students from suffering now, as well as later on in life, Disney is inviting you to get involved with its #ChooseKindness campaign.
From now until Oct. 31, the campaign invites you to use your social media outlets to spread awareness about the movement. Post photos and videos using the hashtag #ChooseKindness, and encourage your friends and family to do the same. If you feel comfortable doing so, maybe you can share your own experiences with bullying. The truth is, you never know who's listening, or who might need to hear that they are not alone.
Additionally, on Oct. 18, you can wear purple to show your alliance to the LGBTQ community, and on Oct, 24, you can wear orange to support PACER's campaign to encourage safety and support in schools. For more information on how you can get involved, log on to http://www.abcbeinspired.com/choosekindness.