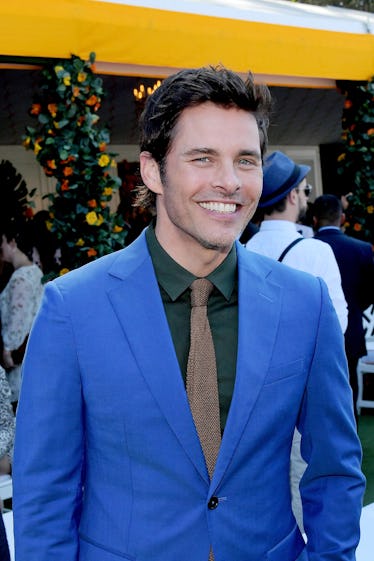 James Marsden Will Star In The First 'Sonic' Movie, So Bring On The Hedgehog
Charley Gallay/Getty Images Entertainment/Getty Images
Someone's about to trade in their cowboy hat for a spiky new 'do, as casting for the upcoming Sonic the Hedgehog film is finally underway. James Marsden will star in the Sonic movie, so get ready to see the charming and talented Westworld actor take on the classic video game in the leading role. The live-action/animation adaptation of the Sega fave is coming to a theater near you for the first time ever.
There's no word on other cast members at this time, but it was announced last year that first time feature-film director Jeff Fowler will be at the helm. Deadpool director Tim Miller will act as an executive producer. Who will play the evil Dr. Ivo "Eggman" Robotnik? And will Sonic's apparent love interest Amy Rose make an appearance? There's so much potential ground to cover here.
Marsden is no stranger to working in CGI — he starred in 2011's 3D live-action/computer animated blend, Hop. Obviously he's familiar with hanging with robots, considering his time spent in Westworld. I never would have picutred a verion of the iconic character of Sonic looking like a rom-com leading man like him, but I'll take it. Ah, the magic of the silver screen.
James Marsden has worked steadily since the mid-'90s, but his career has been on fire lately. Playing Teddy on Westworld has earned him widespread critical acclaim and a 2017 SAG Award nomination for outstanding drama ensemble. In addition to Sonic, which reportedly kicks off filming in July, Marsen is signed on lend his voice to the forthcoming animated comedy Henchmen. It was announced earlier this month that he's in talks to star in Netflix's thriller In the Tall Grass, which is based on a 2012 novella written by Stephen King.
Marsden is also rumored to return for the Enchanted sequel, Disenchanted. The follow-up to the 2007 Disney musical comedy is reportedly in the works, as director Adam Shankman revealed earlier this year that a script is close to completion.
"The fundamental story has changed a little bit, but not from the base story of it," Shankman told EW. "It's about Giselle 10 years later going, 'What is happily ever after?'" You may remember James Marsden's character portrayed the adorably over-the-top Prince Edward in the original.
Marsden certainly taken the plunge in a variety of genres — from superhero to sitcom (the guy's Liz Lemon's husband!) to raunchy indie, and now video game hero. He's even talked about his long and versatile career in the past, explaining to GQ in 2016, "If I wasn't me, I'd look at my stuff and go, 'He's been in everything. Turn on the cable, and he's on there. Good movie, bad movie, good movie, bad movie."
"Early in your career you feel like there is a formula, a path you have to take. You have to do this movie because this person directed it and you have to be associated with these people," he told Huffington Post of his professional trajectory back in 2011. "In some ways I have thrown that out. I decided I should go after the roles I like, that I am inspired by and then if I am having a good time, chances are that people will like watching you."
It appears Marsden's stayed true to that philosophy as his star continued to rise over the past 7 years. If any role is likely to be a good time to shoot, it's a likeable video game character with super speed and confident sass to boot. Sonic the Hedgehog is set to spin dash into theaters on November 15, 2019.