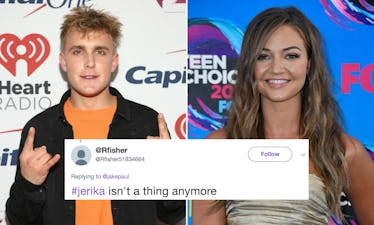 YouTube Stars Jake Paul & Erika Costell Have Broken Up After 2 Years Of Dating
Monica Schipper/Getty Images Entertainment/Getty Images & Frazer Harrison/Getty Images Entertainment/Getty Images
The internet is a weird place. Two major YouTube celebrities Jake Paul and Erika Costell have had one of the more confusing relationships online, though it looks like it's finally over. Did I say finally? I meant it's over. Just over. Jake Paul and Erika Costell's breakup announcement is getting mixed reactions from fans.
There has always been speculation around how serious these two were to begin with. Some folks think their relationship was more about PR than it was about love. Elite Daily reached out to Paul and Costell's teams for comment but did not hear back by the time of publication.
Others are still shipping Jerika. Both star's statements have me feeling somewhat confused, which can only mean one thing...
It's time for a deep internet dive.
On Wednesday, Nov. 7, Paul shared a lengthy emotional post on Twitter dedicated to his "Jake Paulers" fans. In it, he explained he was emotionally distraught and that he and Costell broke up "a few weeks ago." According to Paul, they've been trying to work it out but have been unable to come to some sort of reconciliation. Due to this, he decided it was time to finally let their fans in. He wrote: "I am reluctantly writing this message & can barely hold it together as I do so, but I have been waiting for the right time to make a statement about mine and Erika's relationship... Sadly, Erika and I broke up a while ago."
Paul added the two YouTube stars did some serious soul searching and decided the healthiest thing for them to do was to go their separate ways. He added,
Erika is such a beautiful soul & she truly changed my life. She is a powerful, smart, & independent woman, who has such a bright future ahead of her and has helped me become a better person on multiple levels... I will be forever grateful she was a part of my life.
Paul ended his note by asking the public to respect their privacy.
Of course, by this point, gossip king Keemstar had already been digging. In a video shared three days prior to Paul's statement on Monday, Nov. 5, Keemstar revealed an Instagram model named Nikki was caught by Paul's fans hanging out by his Team 10 van.
According to Keemstar, Nikki allegedly explained Paul and Costell had already broken up by the time she was hanging out with him.
As for Costell, Keemstar says he got her permission to release a screenshot of the following statement reportedly made by her:
Damn, I've been through so much the past month with this... and already feel like a fool, I don't care about what the internet thinks about me I just wanna move on and get through this sh*t privately you can say whatever you want.
Like I mentioned, fans have mixed feelings.
Personally, I'm referencing this interview from Paul back in 2017 to inform my opinion. At the time, Paul was asked what his favorite thing about Costell was and he said, "She's just, like, the homie."
O... K...
Objectively, I think both stars might have a deeper more meaningful connection with other people somewhere else. Just sayin'.