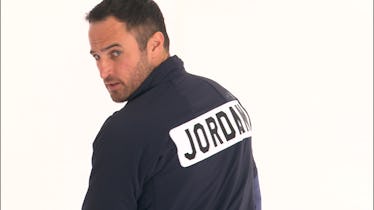 This Unlikely 'Bachelor In Paradise' Couple Is Now Officially Dating, So Love Still Exists
Here's a Bachelor in Paradise love connection you probably didn't see coming. Season 5 contestants Jordan Mauger and Jacqueline Trumbull didn't even meet while filming in Mexico. Jacqueline barely got any screen time before getting the boot after one episode and Jordan left before the fantasy suites following breaking things off with Cassandra. The pair didn't cross paths on television, but fortunately they made their way to one another after the show wrapped. Yup — Jacqueline and Jordan from Bachelor in Paradise are dating. Love finds a way.
You may remember Jacqueline from Arie's season of The Bachelor — the thoughful New York-based Ph. D candidate in clinical psychology decided to exit on her own accord when she realized she and Arie didn't have a foundation for their relationship. She showed up on Bachelor in Paradise, as many franchise cast-offs do, to give the whole reality TV thing a second chance. But that venture didn't quite work in her favor either. She failed to get a rose and was sent packing almost immediately... and on her birthday, no less! Jordan, the New Zealand Bachelor alum (and notorious coin-flipper) who was introduced to American audiences during February's Bachelor Winter Games, had a more successful stint on BIP Season 5. He hit it off with Shushanna and then moved on to Cassandra, although they didn't make it to the finale. But just because the cameras stop rolling doesn't mean making a Bachelor match isn't possible. Case in point: Jacqueline and Jordan. The couple apparently galavanted around Burning Man together. Now they're making their courtship Instagram official.
"More desert than beach people I guess...," Jacqueline captioned a Sept. 19 Burning Man post of her and Jordan locked in a loving gaze.
Prior to that romantic pic's unveiling, Jacqueline shared two friendly photos of them hanging out at the Nevada festival.
Jordan shared his own sweet picture that showed him kissing Jacqueline. "The playa provides" he wrote on Sept. 19.
Jacqueline took to her Instagram stories that same day to show a cute video of Jordan visiting her in New York City. I guess these two are really making this thing work!
Jacqueline and Jordan aren't the only Bachelor and Bachelorette alums who discovered love outside of Playa Escondita. Angela Amezcua, who left Paradise heartbroken when Eric Bigger decided to pursue Cassandra, has struck up a romance with Bachelorette's Clay Harbor. Clay had his own premature departure from Becca's season when he suffered a wrist injury that required surgery. The football pro decided focusing on his health was more of a priority than competing for a potential wife, but it looks like the whole relationship thing worked out for him despite those circumstances.
Bachelor in Paradise can come off as a seriously stressful situation. It's comforting to know that these two Bachelor universe couples were able to connect even though thier TV journeys weren't exactly fruitful in the romance department.
"It's an out-of-this-world experience," Jordan recently said of Burning Man in an interview with Woman's Day. "I've been the past two years and it's so rewarding – you can become a part of whatever your imagination can conjure up. But I don't want to give specifics as I'd like to keep it a bit mysterious."
"You'll just have to wait and find out!" he responded, when asked if he was single.
Well, it looks like the cat's out of the bag now.