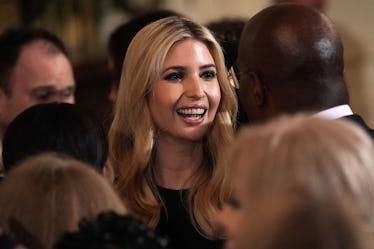 Ivanka Trump Tweeted About Serena Williams & It Doesn't Quite Add Up
Alex Wong/Getty Images News/Getty Images
President Donald Trump's daughter and adviser, Ivanka Trump, has long been an advocate for working women. On Friday, May 25, she doubled down on her position on Twitter after tennis star Serena Williams lost her seeding following a long maternity leave. In response, Ivanka Trump tweeted about Serena Williams participating in the French Open this week, jumping to her defense.
Citing the Women's Tennis Association (WTA) decision to unseed Williams after taking maternity leave, Trump tweeted, "This is ridiculous. @SerenaWilliams is a formidable athlete (best ever!) and loving new mother. No person should ever be penalized professionally for having a child! The #WTA should change this rule immediately." Ms. Trump, a mother of two herself, has been an outspoken advocate for policy around working moms.
Williams, who gave birth last September, took 14 months off for maternity leave, per The Washington Post, and was bedridden for a month and a half following the childbirth. The Associated Press adds that a pulmonary embolism left her with breathing difficulties and inhibited her ability to train.
Before taking off for maternity leave, Williams was ranked No. 1 in the world, according to AP. But now, following her return to the sport, she is currently ranked No. 453. Should she have to compete in that ranking at the French Open, she would face off against the top-ranked players early on, rather than later in the tournament, which begins on Sunday.
Even several of Williams' top competitors told AP that she deserved to have her placement protected. "If you're like finished or you stopped because you're going to have a child and you will be in top eight, I think you should have this kind of thing, to have protected seeding," said fourth-ranked Elina Svitolina, per AP. "She was No. 1 so she deserves seeding."
A rule change may soon protect people like Williams from losing their position in rankings, but that won't take effect until next year at the earliest.
But while Williams has her fair share of supporters on the issue, Ivanka included, the first daughter herself got some pushback for her comments on social media. "If she were for empowerment she would be worried about the little people who need affordable day care and pay equity, things that her daddy has squashed with his abhorrent policies," wrote one user in reply to Ivanka's tweet. "Serena will be just fine."
It's not the first time Ivanka has drawn scrutiny for her advocacy of working mothers and women in the workforce in general. Despite authoring a book on the matter — Women Who Work — Trump and her eponymous clothing line, which has been plagued by reports of alleged unfair labor practices, have been the subject of criticism. Others have said that the wealthy businesswoman is out of touch with the average working mother and the issues she faces.
Though she has made it clear its a cornerstone of her policy both at home and abroad to be a champion for women — serving as the talking head for the Trump administration at global summits emphasizing women's entrepreneurship — Ivanka hasn't been able to quell the tide of policy decisions that affect her fellow females during her father's presidency. She even received failing marks from an assessment of her making good on her promises to help working women and their families by the Center for American Progress.
From health care to immigration, the policy decisions of the last year-plus have had resounding affects on mothers, and this didn't go above notice. In replying to Ivanka's tweet, one user simply shared a tweet by Rep. Pramila Jayapal citing the Trump administration's recent move to crack down on border crossings, separating mothers from their children in the process.
Setting aside criticism of Ivanka as a politician, the first daughter has presumably brought attention to the Williams news ahead of this year's tournament, highlighting the larger issue of mothers being penalized in their professions. Whether or not it has bearing on rules moving forward, for tennis or beyond, remains to be seen.