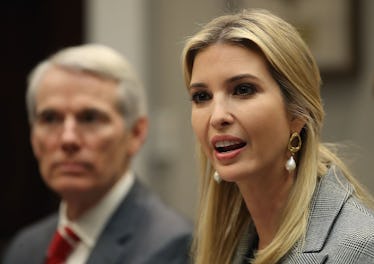 Ivanka Trump Had A Thoughtful & Fitting Response To Kate Spade's Death
Mark Wilson/Getty Images News/Getty Images
On the morning of Tuesday, June 5, tragedy struck the fashion world when news broke that designer Kate Spade died of an apparent suicide in her Manhattan home. Seeing as depression and suicide is such a hot-button issue in the United States, many political figures chose to touch on Spade's passing via social media. Ivanka Trump's tweet about Kate Spade is heartbreaking, but so incredibly spot-on.
Spade was just 55 years old when she was found dead in her Park Avenue apartment on June 5, according to CBS2. Her reported suicide came as a shock to many both in the fashion world and beyond, as she was an extremely successful designer with what seemed like the complete package. But as the world sadly learned, nobody can see what's exactly going on in someone's life behind closed doors.
Trump highlighted this and offered a message of support for those experiencing suicidal thoughts in light of Spade's passing. She posted a tweet on June 5 not long after news spread of Spade's loss. In the tweet Trump says,
Kate Spade's tragic passing is a painful reminder that we never truly know another's pain or the burden they carry. If you are struggling with depression and contemplating suicide, please, please seek help.
Along with the message urging those that are contemplating suicide to seek help, Trump also included a retweet of the number for The National Suicide Prevention Lifeline, a free 24/7 crisis counseling hotline. The message from the hotline's tweet says, "You are enough. If you find yourself struggling, remember that the Lifeline is here for you, 24/7, at 1-800-273-TALK (8255)."
This message from Trump is important for two major reasons. The first one being that anyone can be experiencing symptoms of depression, and you never truly know what someone might be struggling with internally. So it's important to be sensitive to others and their emotions. Secondly, that there is always someone out there that can help you if you're struggling with feelings of depression or thoughts of self-harm. The Lifeline phone number that Trump included is available to anyone in the United States, free of charge, and literally at any and every time of day.
The advice that Trump offers isn't coming from a unfamiliar place, either. In a September interview with Mehmet Oz (a.k.a. Dr. Oz) on his daytime talk show, Trump revealed that she herself endured symptoms of postpartum depression with each of her three children. "I felt like I was not living up to my potential as a parent or as an entrepreneur and executive," she said in the interview. She added that she felt this was an important issue to touch on because it can affect parents everywhere, no matter how driven or motivated they may seem on the outside.
Much like the Trump name, Spade's name carried a lot of weight — specifically in the fashion industry. Spade began her handbag and accessory empire back in 1993, and since then the "Kate Spade" brand grew into the iconic multimillion dollar brand that it is today. She was married to Andy Spade and the two share a daughter, Frances Beatrix Spade, born in 2005. Spade sold her iconic brand to Liz Claiborne Inc. back in 2006, and Spade left her company completely in 2007.
Because of all this success, it came as a shock to learn of Spade's apparent suicide. But this is exactly the point that Trump highlights in her message: no matter how successful someone is or how happy they may seem, they still might be struggling on a deeper level. And it's never too late to get help.
If you or someone you know are experiencing suicidal thoughts, call 911, or call the National Suicide Prevention Hotline at 1-800-273-8255.