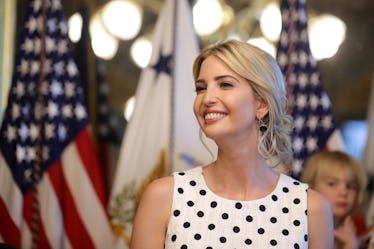 Ivanka Trump Sent Out A Thanksgiving Message That's All About "Love & Generosity"
Chip Somodevilla/Getty Images News/Getty Images
'Tis the season for public figures and politicians to wish the masses happy holidays on social media. Each Thanksgiving, Americans are pretty keen on receiving holiday messages from the president and his family. This year, Ivanka Trump's 2018 Thanksgiving tweet covered all the basics — what she thinks we should be thankful for, what values we should practice as a country, and how we should think about gratitude and generosity this holiday season.
On the morning of Thursday, Nov. 22, Trump's eldest daughter posted the same message on her Twitter, Instagram feed and story, and Facebook:
This #ThanksgivingDay lets recognize the great blessing of living in America, offer gratitude for those serving our communities and Country who cannot be with their families and recommit to uplifting those less fortunate with acts of love and generosity. Happy Thanksgiving! xx
The tweet was met with mixed reactions on Twitter. Some users expressed gratitude toward her (and her farther) for their leadership within the administration, while others pointed out the hypocrisy of her message to help the less fortunate with replies centering undocumented immigrants, migrant camps at the border, and family separation. Though her tweet may not jive with everyone, it's certainly more involved than Donald Trump's Thanksgiving tweet which says "HAPPY THANKSGIVING TO ALL," in all caps, of course.
Though people on the internet had varying opinions about her Thanksgiving message, one thing's certain — Ivanka's tweet was much less controversial than her Thanksgiving message from last year, in which the President's daughter offered festive decorating advice that went poorly. It was also much more involved than her Thanksgiving message from 2016 when she posted a post-Thanksgiving dinner selfie and captioned it "Is it too early for seconds?"
Ivanka attended the annual White House turkey pardoning on Thanksgiving day when Donald Trump pardoned 39-pound turkey named Peas and its sibling Carrots. Though her Tweet suggested a cool and collected demeanor, Ivanka has been under some recent scrutiny after a Washington Post article reported that she used a personal email to send hundreds of messages about government business last year. People on Twitter have been noting the irony of email scandal, criticizing her use of a personal server in the same way they felt the Trump administration criticized Hillary Clinton's.
Despite this story popping up in the recent news cycle, Ivanka seemed unfazed at the turkey pardon, which she attended with her children.
Ivanka and her father aren't the only politicians to send out Turkey Day tweets. Kamala Harris mirrored Ivanka's sentiments about U.S. troops with a tweet saying: "#ImThankfulFor those who serve and defend our country, and their families. They have dedicated their lives to service and we cannot ever thank them enough for all that they do." Washington state Senator Maria Cantwell took to Twitter to express her gratitude for the people of Washington state and for the opportunity to serve as a U.S. senator. Senator Cory Booker posted a Thanksgiving prayer about giving thanks and paying it forward.
Happy Thanksgiving to all!