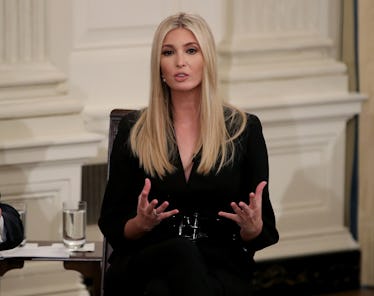 Twitter Can't Stop Pointing Out The Irony In Ivanka Trump's Email Situation
Mark Wilson/Getty Images News/Getty Images
Oh, the irony. Ivanka Trump used a personal email to send hundreds of messages about government business last year, according to a Nov. 19 report from The Washington Post. She reportedly used the email to contact White House aides, Cabinet officials, and assistants, which is a violation of federal records rules. The White House did not immediately respond to Elite Daily's request for additional comment. Of course, the news sent shockwaves through social media, and these tweets about Ivanka Trump's email situation really roast this whole thing.
According to the Post, Trump's use of her personal email to discuss government affairs was discovered as White House ethics officials were preparing to respond to a public records lawsuit. The discovery quickly drew parallels to a 2016 situation involving then-presidential candidate Hillary Clinton, in which it was revealed that she sent emails through a personal account on a private server, rather than a government address, during her time as secretary of state, something Clinton later characterized as a "mistake." In a 2016 report on the situation, then-FBI Director James Comey called Clinton's handling of emails "extremely careless" but did not recommend charges. Nevertheless, throughout the election, President Donald Trump repeatedly criticized Clinton for her use of a private email, labeling her "Crooked Hillary" and called for her to be thrown in prison. He also accused the justice system of corruption for deciding not to press charges against Clinton, said she was a "liar" who was "unfit" for office, and labeled her "incompetent." Trump supporters even started chanting "Lock her up!" at his rallies (and still do, on occasion) because of the controversy. The email drama became a focal point of the election that arguably tipped the vote in his favor in the end.
Twitter users can't get over the apparent hypocrisy in it all, and are calling on administration officials to keep the same energy with Trump as they had with Clinton. Elite Daily reached out to the White House for further clarification of the apparent similarities to Clinton's email controversy, but did not hear back by the time of publication.
"She should be in prison. Your dad's words, not mine." Yikes.
It's nothing but karma to some Twitter users.
But Trump reportedly has a defense for her actions. According to the Post, she said that she was simply unaware of how the rules worked.
Peter Mirijanian, a spokesperson for Trump's lawyer Abbe Lowell, backed her comments to the Post, saying that the first daughter had only used her private email before she was bumped up to speed on the rules.
"While transitioning into government, after she was given an official account but until the White House provided her the same guidance they had given others who started before she did, Ms. Trump sometimes used her personal account, almost always for logistics and scheduling concerning her family," he said in a statement.
He also said that Trump used her email differently than Clinton did. "Ms. Trump did not create a private server in her house or office, no classified information was ever included, the account was never transferred at Trump Organization, and no emails were ever deleted," Mirijanian said, referencing the time in March 2015 when a computer specialist deleted an archive of thousands of Clinton's emails in the wake of a congressional investigation.
Hmm. Seems like this matter is still unfolding, so we'll have to see what happens. But maybe don't hold your breath for the president calling to throw his beloved daughter in the slammer. Just saying.
Disclosure: Hillary Clinton's son-in-law Marc Mezvinsky joined Social Capital, an investor in Bustle Digital Group, in mid 2017 and joined the Board of Bustle Digital Group in early 2018.