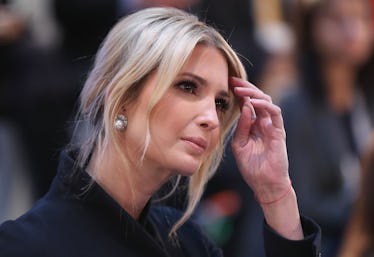 These Ivanka Trump Quotes About Immigration Focus On 1 Big Issue
Alexandra Beier/Getty Images News/Getty Images
Over the past few months, immigration has been one of the most controversial topics within the United States. There's been increased activity from Customs & Border Protection (CBP) agents, as well as questionable living conditions at detention facilities at the United States southern border, which has led politicians to speak out against the Trump administration. However, there's one White House staffer that's remained relatively quiet on the issue, because these Ivanka Trump quotes about immigration don't say much.
The Trump administration has received serious criticism from fellow politicians about living conditions at detention centers holding migrants in the United States. There's been reports of mumps and flu outbreaks among detainees, leading to quarantines, as well as problems concerning overcrowding issues and lack of supplies such as diapers, toothbrushes, soap, and more. The U.S. Department of Homeland Security (DHS) did not previously respond to Elite Daily's request for comment. Conditions have reportedly reached such extremes that Rep. Alexandria Ocasio-Cortez compared the detention centers to concentration camps during an Instagram Live video on June 18.
The Trump administration, particularly President Donald Trump, has defended increased U.S. Immigration and Customs Enforcement (ICE) raids across the United States by stating migrants "broke the law by coming into the country" and has stated border detention increases safety for Americans. So, we know where he stands on the issue, but what does his daughter Ivanka Trump have to say? Even though she's remained relatively quiet, she's still shared a few thoughts — mainly pertaining to family separations at the border.