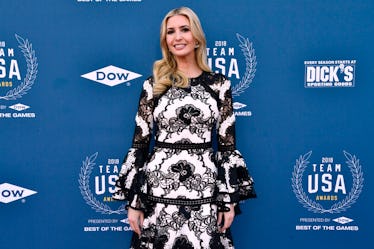 Ivanka Trump Tweeted A Throwback Photo For Mother's Day & It's So Special
Larry French/Getty Images Sport/Getty Images
Scrolling through your social media feeds on Mother's Day, you'll find nothing but sweet messages and pictures celebrating the day. Some folks might find it hard to craft the perfect Facebook post or tweet for the occasion, but not the first daughter. Ivanka Trump's Mother's Day tweet is honoring her mom in such a sweet way. She totally nailed it.
Most of what you'll find in the realm of Mother's Day posts are lots of selfies with mom, or some throwback photos of vintage-glam moms cradling their kids. But Trump decided to honor her mother, Ivana Trump, in a bit of a different way. Trump — a mother of three children herself with husband Jared Kushner — shared a very loving message that not only expressed her love and admiration for her mom, but highlighted Ivana's accomplishments outside of motherhood, with a stylish and fun pic of doing one of the things Ivana did best — skiing.
Trump posted a throwback photo of Ivana skiing in aspen in the nineties looking like she just stepped off the pageant floor in a silver jumpsuit. "No puffy coats or knit hats for me, ever," Ivana once told Time back in 2017. The caption of the tweet read, "Happy Mother's Day to my amazing mother and the best skier I know! Love you #MothersDay."
Moms are so great at being moms that sometimes it's easy for children to just see them as that and forget that they are powerful women with other amazing traits and skills. So it's really nice that Trump took the time out to admire her mother for something more than just being her mom.
Most of us know Ivana as President Donald Trump's first wife and mother to Donald Trump Jr., Eric Trump, and Ivanka Trump, but before that she had Olympic dreams.
Ivana started skiing competitively in Czechoslovakia when she was very young. According to Newsweek, Ivana — with a push from her father — would practice on the bunny slope near her childhood home, and by her family's home in the country. Eventually she went to ski camp in the Italian Alps and joined the Czech junior national ski team. There's also claims that Ivana was an alternate for the 1972 Czechoslovak Olympic ski team, although that has not been verified, according to The New York Post.
Shortly after the 1972 Olympics, Ivana moved to Canada to become a model. She then met a young real estate mogul while in New York City for a fashion show in 1976. As the story goes, Ivana was at Maxwell's Plum — said to be a pickup joint on the Upper East Side — waiting for a table when she felt someone tap her on the shoulder. Ivana recounted the story of how now-President Trump approached her to the Post,
[There's] this tall blond guy with blue eyes. He said, 'I'm Donald Trump and I see you're looking for a table. I can help you.' I look at my friends and said, 'The good news is, we're going to get a table real fast. The bad news is, this guy is going to be sitting with us.'
Believe it or not, the two started dating after that. According to the Post, President Trump actually took Ivana to the 1976 Winter Olympics in Aspen, Colorado, but had no idea that she had any history with the games. She actually duped him for a little and pretended, at first, that she had no idea how to ski. She told the Post,
The second day, he was getting good. So he said, 'Ivana, let's go ski.' I asked the instructor to put the ski boots on me like a beginner. Donald was like, 'OK, darling, you can do it!' I took off and he got so angry. He said, 'I will never [ski] again for anybody! Even Ivana!' So I play for his ego.
Ivana's marriage to President Trump probably overshadowed a lot of her personal history and accomplishments. So it's nice that, on Mother's Day, Trump chose to remind everyone of Ivana's personal achievements outside of being a wife and a mother. Although let's be real — those are pretty awesome all on their own. Happy Mother's Day!