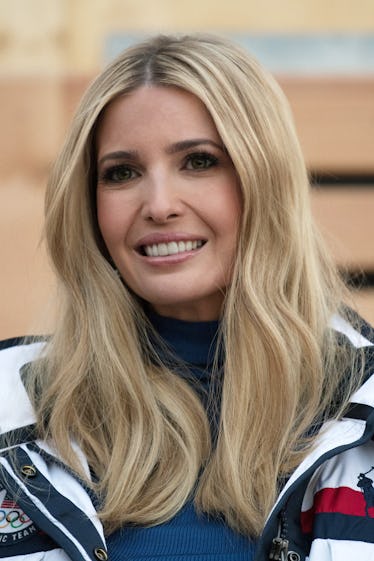 You Really Don't Want To Know How Much Ivanka Trump's French State Dinner Dress Costs
Carl Court/Getty Images News/Getty Images
On Tuesday, April 24, the Trump White House held their first state dinner, over a year after Donald Trump was inaugurated. The dinner honored the French president, Emmanuel Macron, as well as his wife, Brigitte. President Donald and first lady Melania Trump were, of course, present, as were Ivanka Trump and Jared Kushner. These events typically involve high fashion moments, and Ivanka Trump's French state dinner dress really fit that idea.
For the occasion, Trump wore a pink, polka dot gown made by Rodarte, with dark red lipstick and her hair up in what looks like a low bun or chignon. According to Yahoo Lifestyle, the gown, which falls straight down in tiered tulle, costs $12,888. So, yes, that is a chunk of change for a dress. Now, however, before you go shouting about how your tax money is going towards a dress, you should know that is likely far from the case, despite the angry tweets you might be seeing about all this. The female members of presidential parties are often criticized for the price of the clothes they wear to political events (Michelle, Sasha, and Malia Obama all faced the same criticism), but it's generally known that taxpayers are not putting money towards those gorgeous gowns.
According to W Magazine, both Melania Trump and Michelle Obama, for instance, pay for most of their clothing with their own money. These high-profile public figures also can ethically accept clothing from designers, W notes, and those gifts are then given to the National Archives after being worn as they become government property. Ivanka is a little bit of an outlier here as she's not a first lady, but it's a safe bet that your tax money did not pay for this dress. Elite Daily reached out to Rodarte and the White House for information about how Ivanka Trump obtained the gown, but did not hear back at time of publication.
So for the state dinner honoring France, Ivanka Trump went with Rodarte, which is an American designer led by tow sisters, Kate and Laura Mulleavy. This particular dress, meanwhile, has been seen before on famous faces in the past year. Per Yahoo, the Rodarte gown was also worn by Kirsten Dunst at the 2017 Venice Film Festival and by Stranger Things' Millie Bobby Brown at the Brit Awards in February, although she wore a white version of the gown.
By wearing an American designer, Ivanka took a bit of a departure from Melania Trump, whose look on Tuesday night was more like a political handshake. The first lady, who speaks fluent French, wore a Chanel Haute Couture gown, a sparkly silver column dress and she wore her hair straight down. Melania's dress was seen as a nod to the French guests, as she was wearing a classic French designer. This vaguely followed Michelle Obama's lead, as she had a habit of wearing gowns to state dinners that were made by designers with the heritage of the country being honored, although Obama tended to wear American-made designs.
The Macrons' visit to the White House has been a seemingly friendly time. French President Macron and President Trump displayed the "very special relationship" they apparently share, although beneath the smiles there is some political tension. Macron came to the United States in part to talk to Trump about sticking to the 2015 Iran nuclear deal, which limits Iran's nuclear work and weapons. Trump has indicated that he's not a fan of the deal. At a news conference on Tuesday, per CNN, Macron and Trump discussed possibly working on a new deal that "will enable us to deal with the nuclear issue, but also treat it together with another three issues which were not being dealt with so far," according to Macron.
Ivanka Trump has largely stayed out of the more political side of the French visit, although when asked at the dinner if she spoke French, she replied in the language, "Yes, a little bit." It's important to make an attempt.