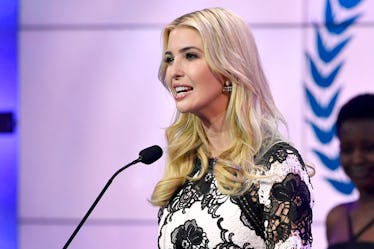 Ivanka Trump Doesn't "Pay Much Attention" To Daily Politics, So That's Where We're At
Larry French/Getty Images Sport/Getty Images
Ivanka Trump is arguably her father's most influential adviser and favorite right-hand woman. But rather than using her platform to address serious issues, the first daughter generally tends to keep quiet, which has garnered her massive amounts of criticism at times. Well, she's finally speaking up about it, but Ivanka Trump's comments about her silence on political issues are pretty disappointing.
Speaking at the Concordia Summit in New York City on Monday, Sept. 24, Trump said she deals with the "daily chaos" of the White House by simply ignoring it. According to Newsweek, she explained: "It's been a work in progress, but I'm getting better at ignoring the noise. I tend not to respond, I tend not to debunk criticism or say when things are inaccurate."
Trump went on to share her observations of White House staff members who do give in to the noise, saying it "drains energy" and is "unhealthy."
I have seen people care so much and want to do good work, but then they start getting Google alerts. Then it starts to take more of their time, and they get defensive and suspicious of those around them, they start to ask who circulated certain things. It's pointless, drains energy, and causes their internal compass to go awry. Getting too engaged in the daily chaos is distracting; I don't pay too much attention because it would be unhealthy.
Elite Daily reached out to representatives for Trump for further comment, but did not hear back by the time of publication.
Those who have followed Trump throughout her father's presidency might not be totally surprised by the comment, as the first daughter has repeatedly refrained from addressing some of the most serious and controversial topics, like the recent sexual assault allegations three women have leveled against Supreme Court nominee Brett Kavanaugh. Kavanaugh has denied all allegations. Elite Daily reached out to his representatives for further comment, but did not receive a reply.
In the wake of the allegations, people have called on Trump to push for an investigation into the claims, sharing their pleas in the form of "Dear Ivanka" posts. The posts — shared by stars like Chelsea Handler, Alyssa Milano and Amy Schumer — read:
#DearIvanka, You don't follow me on social media. But as a public servant, you work for me. You've proclaimed yourself a feminist and a champion of women's rights. Right now, you have an opportunity to fight for women. Use your access to demand that Professor [Christine Blasey] Ford's request for a full, fair, trauma-informed investigation by the FBI be held.
Though a source told Vanity Fair that Trump did actually advise her father to "cut bait" and withdraw Kavanaugh's nomination, a representative for the first daughter tells Elite Daily via email at the time that the report was "100 percent false."
Of course, there's still a possibility that Trump could start speaking up about various political issues more often than she does in the future. But it's probably safe to assume that we'll be seeing many more calls for her attention in the meantime.