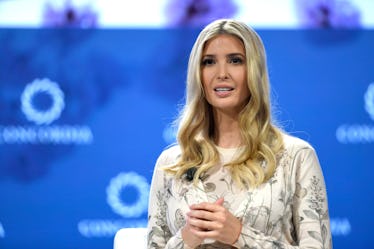 These Viral Posts Are Calling For Ivanka Trump To Support Brett Kavanaugh's Accuser
Riccardo Savi/Getty Images Entertainment/Getty Images
In the wake of the sexual assault allegations against Supreme Court nominee Brett Kavanaugh, people are calling on Ivanka Trump to push for an investigation into the claims — including some of your favorite celebrities. Stars like Amy Schumer, Alyssa Milano, Mariska Hargitay and others have all taken to social media to share "Dear Ivanka" posts about the Kavanaugh allegations, pleading with the first daughter to use her influence to open an investigation into the claims leveled against the Supreme Court nominee. If you haven't kept up with what's going on, the posts show just how serious this matter is getting.
The posts were fueled by allegations that two women made against Kavanaugh, which he has categorically denied. Christine Blasey Ford, a 51-year-old professor at Palo Alto University, was the first to go public with her claims, shared in a Sept. 14 report by The New Yorker. She alleged that Kavanaugh sexually assaulted her and attempted to rape her while drunk during a party more than 35 years ago. Kavanaugh denied the allegation, saying in a statement, "I categorically and unequivocally deny this allegation." The other woman, Deborah Ramirez, who attended Yale University with the Supreme Court nominee, claimed that Kavanaugh exposed himself to her and assaulted her during another boozy party years ago. Kavanaugh has denied all the allegations, saying in his most recent statement, "This alleged event from 35 years ago did not happen." Representatives for Kavanaugh did not respond to Elite Daily's request for additional comment on either allegation. Though both Kavanaugh and Ford are expected to testify on the claims later this week, the FBI is not expected to investigate the allegations, which is why some people have turned their attention to the first daughter and are urging her to take action, citing the way she's positioned herself as a champion for women's issues.
The "Dear Ivanka" posts read:
#DearIvanka, You don't follow me on social media. But as a public servant, you work for me. You've proclaimed yourself a feminist and a champion of women's rights. Right now, you have an opportunity to fight for women. Use your access to demand that Professor Ford's request for a full, fair, trauma-informed investigation by the FBI be held.
Some stars who Trump does follow on Instagram also added personalized captions to the posts in hopes that the first daughter sees them. Sophia Bush wrote to Trump:
I figured after the last one of these calls for you to take action, you'd unfollow me. But you're still following me!! So, let me use this opportunity to call you in. Rather than feeling called out, try to see this as an invitation to merge your words and your actions. Girl. You can do it.
Meanwhile, Amy Schumer tweaked the note to reflect that Trump also follows her, writing:
Hey @ivankatrump Were you so excited to wear that pill box hat this week? #fun You will be remembered like Eva Braun unless you do something. It's not too late.
Many people have been awaiting Trump's response to the allegations since they hit the internet, but she has yet to address them publicly. Vanity Fair, however, published a report on Sept. 18 claiming that Trump told her father to "cut bait" and withdraw Kavanaugh's nomination. In an email to Elite Daily at the time, a representative for the White House says the reported comments are "100 percent false."
No word on if or when Trump will address this matter. But with any luck, maybe these posts will get through to her. Anything's possible.