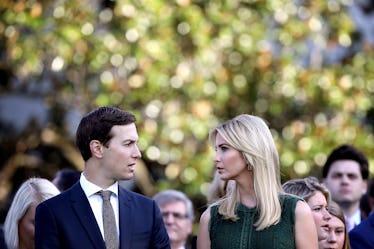 Ivanka Trump Tweeted To Her Husband For His Birthday, & It's Awfully Familiar
Win McNamee/Getty Images News/Getty Images
Say what you will about Ivanka Trump, but she clearly has a solid relationship. On Jan. 10, the first daughter tweeted out for her husband's birthday — and well, let's just say there's something of a theme. Ivanka Trump's birthday tweets to Jared Kushner look exactly the same, and it's uh, a little weird?
Because on Jan. 10 2018, Kushner's 37th birthday, Trump tweeted out a birthday message to her husband accompanied by a charming photo of the couple. At around 8:00 p.m. ET, Trump posted a cute photo of the pair in what looks like an all-white apartment, Kushner on the left in a suit, Trump on the right in a pale pink dress. She captioned it,
With the birthday boy on his 37th birthday! Here's to many more great days, years and decades to come with my love!
Cute! Except… she already tweeted him a birthday wish?
Literally about 12 hours before, in fact. At around 8 a.m. ET Trump posted another tweet, with a photo that showed the couple standing outside in a garden, Kushner on the left in a white button up and slacks, Trump on the left in a pale pink dress. Trump is clearly pregnant, and cradles her stomach with one hand. She captioned it,
Happy birthday, Jared! Thank you for being the most amazing father, husband, and best friend I could have dreamed of. Here's to you!
Hm. Do you think she forgot?
Either way, homegirl totally has a theme. Literally both photos show the pair standing together, Kushner in business wear (OK, business casual in one) and Trump in a pale pink dress. If not for the fact she's clearly pregnant in one photo, I would say that she just threw on a sweater and he just put on a suit jacket, and they stepped inside for some different lighting. They look that similar. Here, take a look.
Here's photo one:
And here's photo two:
OK, so Trump changed her earrings too. Whatever. My point remains.
Or maybe, the tweet is just a response to those pregnancy rumors that popped up immediately after Trump's first tweet. After she posted the first photo — which is originally from 2016, by the way — apparently a whole bunch of people thought she was announcing a fourth pregnancy. (Trump and Kushner are already parents to Arabella, 6, Joseph, 4, and Theodore, 1.) So maybe this second photo is a way of subtly shutting down the rumors before they really get going.
Of course, the real reason is probably just that Trump is just really enthusiastic about her husband and wants to celebrate him.
Trump is known for her social media presence, including family shots on holidays like Hannukah, anniversaries, and Father's Day. Add to that the fact the couple have a pretty solid relationship and have for years, and there's a pretty clear reason for the double-feature tweet. Trump and Kushner, who now serve as senior advisers to Trump's father, President Donald Trump, met back in 2005 at a networking lunch. By 2007, they were being seen around town together, and in a mark of true romance, even got caught making out at a bowling alley (it happens to the best of us). Though they briefly split in 2008 over issues of religion — Kushner's Orthodox Jewish family didn't approve of him marrying a non-Jew — they quickly got back together, and got hitched in 2009. Congrats, you crazy kids!
Eight years and three kids later, they're clearly still going strong enough to warrant a double-whammy birthday tweet. That's love in the modern era, I guess.