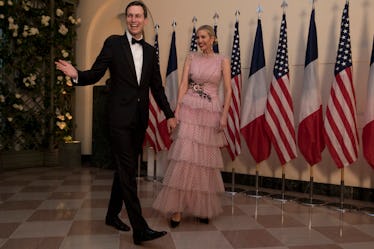 Ivanka Trump's Anniversary Message To Jared Kushner Is A Sweet #TBT
Aaron P. Bernstein/Getty Images News/Getty Images
Apparently the White House is extra lovey-dovey (and by extra I mean there's some) this week as Ivanka Trump and Jared Kushner celebrate their wedding anniversary on Thursday, Oct. 25. The couple has been married for nine years and still very much in love, at least according to Ivanka Trump's anniversary message to Jared Kushner. No matter what you think of the Trump family politics, you gotta admit this is super sweet.
As the saying goes, you don't love your partner unless you show it to the world on social media. Of course that important guideline to live your life by also applies to the rich and famous (and to the rich and famous who are in the White House). So, it wasn't at all surprising that on their nine-year anniversary, Trump sent a heartfelt message to her husband on Twitter. The first daughter tweeted side-by-side pictures of herself and Kushner — one which was clearly taken at their wedding and the other a more recent snap of the couple. "You are my light, my love, my life. Happy 9th anniversary, Jared," the tweet read. That's a #ThrowbackThursday post to beat.
The couple — who are on their pottery anniversary, by the way — got hitched in 2009, and have three children together: Arabella, 7, Joseph, 5, and Theodore, 2.
When it comes to honoring an occasion, the first daughter clearly goes with the classics: Trump's 2018 anniversary tweet is almost identical to her 2017 anniversary message to Kushner. Last year, the first daughter posted a different snapshot from their wedding to her Instagram in celebration, captioning it, "Happy eight-year anniversary to the love of my life! "
Repetitive or not, I do have to hand it to the first daughter, she never misses a chance to honor her husband with an outpouring of love on social media. She's good about sharing a message for all the milestones — for example, on Kushner's birthday this past January, Trump tweeted an old photo of the two of them and wrote,
Happy birthday, Jared! Thank you for being the most amazing father, husband, and best friend I could have dreamed of. Here's to you!
If you think that's impressive, the first daughter actually doubled down and sent her husband two tweets on his birthday that year. Yeah, you read that right, two birthday tweets... on the same day. In the second tweet, which came exactly 12 hours after the first, Trump shared another photo of herself and Jared, and wrote,
With the birthday boy on his 37th birthday! Here's to many more great days, years and decades to come with my love!
Of course, that follow-up message might be because after that initial post, a lot of people misread the throwback photo and thought it was also a pregnancy announcement. (The first photo was actually from 2016, when she was pregnant with her third child, Theodore.) I can't blame her for wanting to clarify, TBH.
I can't fault her matching tweets. I'm terrible at coming up with creative ways to wish my friends happy birthday each year. I wonder if she'll let me borrow her birthday/anniversary post Mad Libs template? She's got the touching message format down pat.