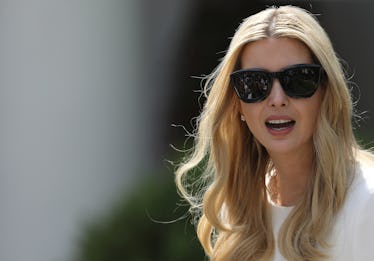 Ivanka Trump Reportedly Made Millions From Trump Brands & It's Raising Questions
Win McNamee/Getty Images News/Getty Images
The Trump family was incredibly well-known long before President Donald Trump was elected to office. The famous last name can be found in clothing stores, on the sides of hotels and other residential properties, and on golf courses around the world. But when the Trumps entered the world of politics, the income that certain family members acquired from private earnings began to raise ethical questions concerning potential conflicts of interest. Ivanka Trump reportedly earned millions from Trump properties in 2017, and seeing as she's a White House employee, those questions are coming up again in a big way.
According to financial disclosure forms obtained by The Hill, Ivanka Trump earned $3.9 million from her ownership share in the Trump International Hotel in Washington D.C. in 2017. She also earned about $2 million in pay and severance from the Trump Payroll Corp., per The Hill. Altogether, Trump has reportedly earned close to $10 million from her personal brand and her ties to other Trump properties in the past year. This is all while she's been serving as an adviser to her father's administration, and, to be clear, she has not been officially investigated for or found to be in violation of conflicts of interest under White House ethics standards and restrictions.
Peter Mirijanian, a spokesman for Abbe Lowell, Kushner's and Ivanka Trump's ethics counsel, insisted that no ethics violations exist as related to Kushner and Trump's outside income. In a statement he made to the Los Angeles Times on Monday, Mirijanian stated, "Since joining the administration, Mr. Kushner and Ms. Trump have complied with the rules and restrictions as set out by the Office of Government Ethics." Elite Daily reached out to the White House for comment on the reported earnings and the questions of conflicts of interest, but did not immediately hear back.
While government employees are prohibited from using their positions to enrich themselves, there have also been questions around how Trump's eponymous brand might be benefiting from her public role and close relationship to the president. In May, Trump took heat when her brand was granted seven new trademarks by China shortly after her father, President Trump, promised to save a major Chinese telecommunications company from bankruptcy. At the time, a White House spokesperson referred Elite Daily's request for comment to the Ivanka Trump Organization, which said in a statement that there was nothing inappropriate about the trademarks.
In addition to Trump's reported earnings, her husband and senior adviser to the president, Jared Kushner, also earned a pretty penny in 2017. According to The Hill, Trump and Kushner earned over $80 million in combined income over the past year. Kushner and Trump aren't paid for their current roles in the White House, but the significant income that they make outside of politics raise some serious concerns — namely, if their financial ties outside of the White House bring about a serious enough conflict of interest that it could tamper with fulfilling their political duties.
Trump has been criticized for allegedly using her father's election and presidency for her own profit in the past. Before Trump entered the White House in her official capacity, Trump's jewelry company Ivanka Trump Fine Jewelry apologized for promoting a bracelet that Trump wore in a 60 Minutes interview in November 2016.
She was also criticized for opening up her first retail store in Trump Tower in New York City in December 2017. "This is another in a long line of conflicts of interests," said a former chief White House ethics lawyer Richard Painter in The Washington Post. "By selling directly to die-hard Trump supporters, who are already hanging out at Trump Tower, she gets to pocket even higher margins."
The White House did not immediately respond to Elite Daily's request for comment on the opening of the retail store.
It's not just the eldest Trump daughter who has been accused of profiting off of her father's presidency. In February 2018, her oldest brother, Donald Trump Jr., embarked on a trip to India to promote Trump real estate projects. Aside from several speaking engagements, Trump Jr. was also advertising the opportunity to "join Mr. Donald Trump Jr. for a conversation and dinner" if interested parties put down a massive $38,000 apartment booking fee.
So it's not outrageous that Trump and Kushner's incomes are being scrutinized so extensively. Trump and Kushner knew (or should have known) what they were getting themselves into when joining the Trump administration, and these questions will continue to arise as long as they are still in it and simultaneously still making money outside of it.