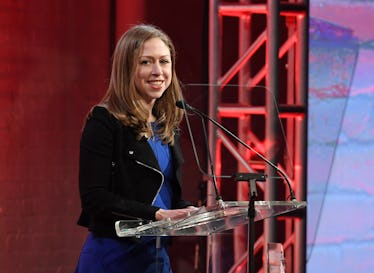 Chelsea Clinton Shaded Donald Trump Jr.'s Foreign Policy Speech & It's Everything
Dimitrios Kambouris/Getty Images Entertainment/Getty Images
Donald Trump Jr., President Donald Trump's eldest son, technically does not have an official position or title at the White House other than being a member of the first family. So when news broke that he would be taking a trip to India beginning on Feb. 20 where he is slated to deliver a speech addressing foreign policy, people were pretty confused. Well one Twitter user posited the question of what the public would think if Hillary Clinton's daughter (if Clinton had been elected) did the same. And Chelsea Clinton's tweet about Trump Jr.'s foreign policy speech throws all the shade you could ever want.
On Feb. 19, The Washington Post reported that Trump Jr. would embark on an "unofficial" trip to the Indian subcontinent for several days to promote Trump real estate projects. He has a full schedule of meet-and-greets with Indian businessmen and investors lined up to discuss the Trump Organization's real estate ventures, where they have projects set up in the cities of Mumbai, Pune, Kolkata, and the New Delhi suburb of Gurgaon.
But aside from these business meetings, Trump Jr. will also be delivering a speech at a global business summit on Friday, Feb. 23. The speech is set to address "Reshaping Indo-Pacific Ties: The New Era of Cooperation," and Trump Jr. will be speaking alongside Indian Prime Minister Narendra Modi. The event is being co-sponsored by the Economic Times newspaper. The report of this trip raises multiple ethics and conflict-of-interest concerns, and Trump Jr. is already being criticized for it.
And not just the media.
In light of this news, one Twitter user wondered what the media reaction would be had Hillary Clinton won the election, and her daughter Chelsea made a similar speaking engagement.
But Chelsea Clinton clapped back at this person... and Trump Jr.
The former first daughter said she wouldn't even dream of making this type of arrangement. "My imagination doesn't stretch this far," she wrote.
Oh, damn.
Basically, Clinton is saying that if she were in Trump Jr.'s place, this would never happen. Why? Well for one thing, probably because the unelected adult child of a sitting president has no business involving him or herself in government policy, and Clinton knows it.
To boot, Clinton is probably aware of the possibility of conflict of interest. According to the Post, not only is Trump promoting Trump Organization properties, the opportunity to "join Mr. Donald Trump Jr. for a conversation and dinner" is being advertised in Indian papers for a hefty price tag of $38,000. While it is unclear if Trump is actually being paid directly for any part of this trip (including the aforementioned foreign policy speech), this report is absolutely riddled with potential conflicts of interest that are pretty concerning.
According to the code of federal regulation, an employee elected to public office is not allowed to use their position to promote private gain for themselves and others. The code states,
An employee shall not use his public office for his own private gain, for the endorsement of any product, service or enterprise, or for the private gain of friends, relatives, or persons with whom the employee is affiliated in a nongovernmental capacity,
Even though Trump Jr. is not a federal employee, it could be argued that his father is using his position in office for the personal gain of his son — and moreover for the company that he still has familial ties to.
Let's backtrack a little here. When Donald Trump Sr. was elected president back in November 2016, the then president-elect was supposed to make a series of legal moves regarding the Trump Organization that would prevent him from facing any ethical issues ahead of his inauguration. But instead of selling his company or giving up control to a neutral third party, Trump turned it over to his sons Trump Jr. and Eric. In fact, according to Vanity Fair, Trump Jr. still reports the company's finances to his father every quarter. That doesn't exactly indicate to me that the president has divested from his business, when he should solely be focusing on governing this country.
Trump Jr.'s role as both a member of the first family and ongoing involvement with the Trump Organization is already complicated enough. With the addition of this trip, it complicates this ethical matter even further. No member of the Trump family is allowed to profit from their father's presidency. So why is this trip even happening, and why is Trump Jr. allowed to give a speech on foreign policy — something he probably shouldn't be doing. I have so many questions, and sadly I feel that none of them will ever be explicitly answered.
Disclosure: Chelsea Clinton's husband Marc Mezvinsky joined Social Capital, an investor in Bustle Digital Group, in mid 2017 and joined the Board of Bustle Digital Group in early 2018.