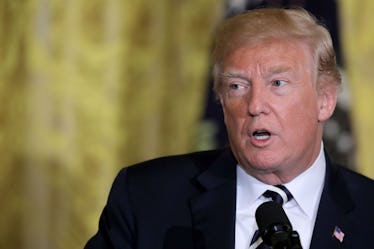 Donald Trump's Ex-Wife Was On 'Dancing With The Stars' & I'm So Confused
Chip Somodevilla/Getty Images News/Getty Images
Is it just me, or is anyone else super confused about why Ivana Trump was on Dancing With The Stars? Not that there's anything wrong with the show — I thoroughly enjoying watching my favorite celebrities try out their best dance moves and I live for the commentary from the judges — but it just seems a bit hypocritical of Trump to compete after she slammed fellow ex-wife of President Donald Trump, Marla Maples, over the actress' decision to appear on the same show. Don't cha think?
On May 5, Trump and her fourth ex-husband, Rossano Rubicondi, danced as guest competitors on the Italian version of Dancing With The Stars, Ballando con le Stelle, as a guest competitor during the show's semi-finals, according to People. For the evening, Trump wore her hair in a beautiful up-do that she paired with a red floor-length gown, crafted from a sheer material. But she kept her look tasteful by wearing a skirt slip underneath and strategically placed sheer cutouts, according to People. (She honestly looked really amazing, but that's not the point right now!!) According to Yahoo, she and Rubicondi danced the waltz, which earned them thunderous applause from the audience, despite previously saying that she'd never go on the show.
Ironically, her appearance came just under a year after she criticized Maples for participating in the American version of the show in 2016. She told People that Maples' had "no class," and added, "I wouldn't go on that show, dancing in those tiny dresses with the boobs and butt hanging out."
I've tried to make sense of this so, in Trump's defense, maybe she just felt like it was the right timing to go on the show — after all, the timing of Maples' turn is seemingly why she was so furious with her to begin with. When speaking about Maples' competing on the show, Trump also told People, "The showgirl appeared on D.W.T.S. when (because) her ex-husband was running for president! It was disrespectful to do the show. I never would have embarrassed Donald that way."
IDK, what your feelings are, but this all seems like a bit of stretch to me. My guess is that this all just boils down to lingering feelings Ivana Trump has toward Maples, given the fact that the actress had a widely publicized affair with Donald while he was still married to her. In Trump's book, Raising Donald, she opens up about a confrontation that occurred between her and Maples in 1989, in which the actress professed her love for Donald, and that's gotta be hard for anyone to get over. Trump recalled, according to the Associated Press, "This young blonde woman approached me out of the blue and said 'I'm Marla and I love your husband. Do you?' I said 'Get lost. I love my husband.' It was unladylike but I was in shock."
...OK yeah, I definitely don't think I'd ever be able to get over something like that.
But then again, even if there aren't any hard feelings and it's all just a coincidence, Trump is known not to give AF and say exactly what's on her mind.
For example, during an April 21 interview with Page Six, Trump flat-out told the publication that she doesn't want her ex-husband to run for reelection. She said: "He has a good life and he has everything. Donald is going to be 74, 73 for the next [election] and maybe he should just go and play golf and enjoy his fortune."
Trump also alluded to the idea that the presidency is a bit too much for Donald and what he originally expected, and boy, does that have to sting coming from your ex-wife. She said,
I think he probably [misses] a little bit of freedom, I don't think he probably knew how much is involved of being the president. It's so [much] information — you have to know the whole world.
Who knows why she decided to appear on the show, but for future references, hopefully Trump has learned to never say never. That definitely would've prevented her from looking so awkward now.