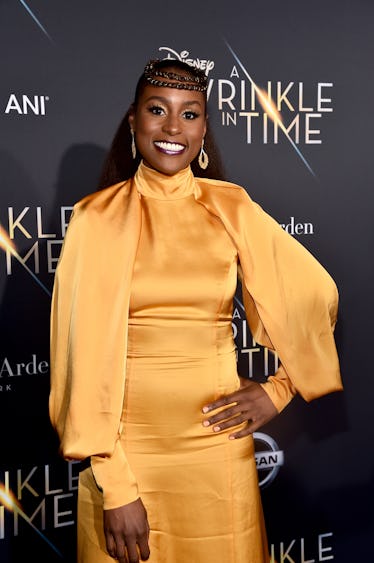 Issa Rae & CoverGirl's New Campaign Celebrates The Women Who Helped Make Their New Foundation More Inclusive
Alberto E. Rodriguez/Getty Images Entertainment/Getty Images
Many women of color are all too familiar with the feeling of walking into a drugstore, going to the makeup aisle, and not being able to find their shade. If you're able to spend a little more and head to a larger beauty retailer like Sephora — and that's if you have one near you or are able to shop online — many brands have begun to offer a wider range of shades. Butthese options aren't always accessible to those who can't afford to spend a fortune. Thankfully, Issa Rae and CoverGirl's TruBlend Matte Made Foundation is finally here to help solve the issue. With the 40 shades offered, each ranging from $8.44 to $11.49 a pop, depending on where you buy it, this is a product that's inclusive in more ways than one.
"I'm a big drugstore beauty shopper and I went to college in a predominantly white rich old neighborhood and even just going to the local drugstore to try to find my shade was impossible," Rae told People when asked about her past makeup shopping experiences. "I'd have to go to east Palo Alto which is the black part of town to be able to find it, and even the shades were limited. I was like, 'This is a black neighborhood. What's the problem?'"
InStyle reported that the 40 shades offer a range of options for light, medium, tan, and deep skin tones. And each bottle has an undertone listed, which makes it easy for customers to find their perfect shade. CoverGirl also promises that the foundation will give users 12 hours of comfortable matte coverage. On top of that, the formula works to minimize pores, control oil, and won't transfer onto your clothes.
But it wasn't all up to Rae and CoverGirl. A new campaign the brand launched on July 2, called "By The Infinite," stars the Insecure lead actress, along with motorcycle racer Shelina Moreda, model Maye Muske, and thousands of others. And it is an ode to all of the women who played a part in creating the inclusive formula and shade range — even those who have posted customer reviews online.
Rae first signed on to be the face of iconic beauty brand back in September 2017. At the time, the actress said on Instagram that she "never ever" thought she would become a CoverGirl, but she was very grateful for the opportunity.
"My character is ever-evolving, and makeup is a tool to help transform my persona — whether for a role I play in content that I produce, or the different roles I take on in my life," Rae said in a statement. "Becoming a CoverGirl means a lot because the brand recognizes just how important it is for people to embrace their individuality and express themselves in unique and diverse ways. This has been a major part of my personal journey, and a message that I want to share with others."
But when the 33-year-old is taking a break from the glam of being a CoverGirl, Rae told Refinery29 that she actually learned her at-home beauty routine from other black women.
"So many Black women in this industry look so ageless and I'm like, 'How do I make sure that when I'm 40 or 50, I look like you?'" she shared. "Many of them have been generous in sharing some of their secret products." There's no word on what those mysterious products are; however, Rae did mention that she keeps her skincare routine quite simple. Though, in an interview with PopSugar back in November 2017, the star did admit that she's a sucker for a good facial.
"There's a Japanese place in Beverly Hills that I go to — I shouldn't tell people the name because then it's going to be booked, and it's hard enough as it is to get an appointment," she said. "I love the spa. That's something I never got to do before, and now I make it a routine."
Keep living your best life, Ms. Rae.