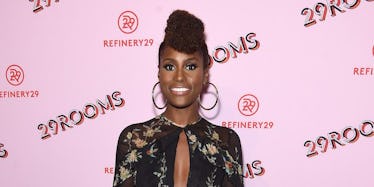 Issa Rae Is The Newest CoverGirl, And Fans Are Freaking Out Over The Stunning Photos
Getty/Jamie McCarthy
In amazing news for an otherwise rather pedestrian Tuesday morning, Issa Rae has been named the new face of CoverGirl. In case you're unfamiliar with the 32 year-old beauty, she created a wildly successful web series called Awkward Black Girl that served as inspiration for the now-hit HBO show Insecure, which just premiered its season two finale. The show is a smart, hilarious, and relatable examination of racism and insecurities among two twenty-something women you want to be friends with, and oh, Issa Rae was nominated for a 2017 Golden Globe for her starring role.
The actress took to Instagram to announce her partnership with CoverGirl, posting a behind-the-scenes picture of her getting a makeup touch-up in a white robe. A camera zooms in on her while she gazes straight ahead with a determined expression on her face, curls looking absolutely on point. Rae included a heartfelt message recounting her relationship with CoverGirl through time: "I remember being an awkward black girl in high school, reading the pages of my favorite magazines, casually flipping through @COVERGIRL ads, singing their slogan in my head. Never EVER in my life did I imagine I'd be one. I am SO honored and SO excited for what's to come."
The brand followed up by uploading the first official photo of Issa Rae's CoverGirl campaign, and by the looks of it, she absolutely slays in a peachy, metallic lip color and gorgeous, lit-from-within skin. Plus, that hair. The scene looks like it could be straight out of Insecure, with Rae leaning over a wooden bar, looking apprehensive as if a creeper could be approaching.
After Rae broke the news, CoverGirl circulated a press release on the partnership, and it seems the beauty behemoth couldn't be prouder of its newest muse: "With her characteristic wit and charm, unique observations on life and culture, and outspoken but relatable nature, Issa truly embodies the COVERGIRL spirit of inclusive self-expression, inspiring people to embrace what makes them unique and confidently represent that to the world," said the brand.
For her part, Rae recounted an early experience with makeup to Buzzfeed: "My first experience with makeup was my freshman year of college. It was the first big night going out to a club," she said. "But I just remember not knowing what to do and went to my local drugstore to buy foundation. Didn't test it out, but was like, This looks like my skin, right?, and just smeared it like it was lotion. I thought I was ready showing up to my friend's place. My friends were like, 'Girl, no, take that off.' And then they helped match my shade and reapply. This experience reminds me of why I'm excited to be a CoverGirl, and how I can help other people find what works for them."
In the press release, Rae expanded on the role makeup plays in her life now: "My character is ever-evolving, and makeup is a tool to help transform my persona - whether for a role I play in content that I produce, or the different roles I take on in my life," said Issa. "Becoming a COVERGIRL means a lot because the brand recognizes just how important it is for people to embrace their individuality and express themselves in unique and diverse ways. This has been a major part of my personal journey, and a message that I want to share with others."
Twitter is absolutely shook with joy over the latest addition to the CoverGirl stable, which already boasts Zendaya and Katy Perry.
Elite Daily reached out to CoverGirl for more information on Rae's role and the accompanying products, and the brand shared an additional shot of Rae, shot from the side view. From this perspective, her light lip color looks super glossy and unexpected, and I want it now.
So far, we have no news on the products she will represent, but personally I'm hoping for highlighter, foundation, primer, unicorn tears, or literally anything that makes my skin glow like Rae's unreal complexion. From the new vitamin-enriched, full coverage Vitalist Healthy Elixir Foundation ($10; walmart.com) to the creamy, matte pigment of the Colorlicious Melting Pout Liquid Lipstick ($8; ulta.com), the brand's recent launches have been killing it. On Insecure, Rae's character (also named Issa) will go out in bright, vivid eye shadow or a statement lip.
Honestly, with her kilowatt smile, the girl doesn't need much. But here's hoping that with CoverGirl's help, some of her charisma will come bottled up for us.