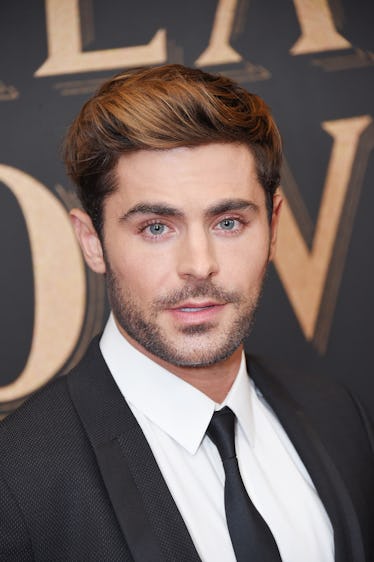 Fans Think Zac Efron Is Dating His Co-Star After Posting These Flirty Photos
Michael Loccisano/Getty Images Entertainment/Getty Images
Zac Efron is known for being witty, charming, and a great actor, but also for one more very important thing: his abs. And, while it's taking me every fiber of my being not to dedicate this entire post to his physique, I do realize the world has more pressing questions, like "Is Zac Efron single?" I'm sorry, but the people asking those kind of questions are the people who have DEFINITELY seen his abs. Seriously, they are washboard status.
Now that he's adding "Golden Globes presenter" to his resumé, people are even more interested in the Baywatch star's love life. And who can blame them? Have you seen the man?
In April of 2017, Efron interviewed with Cosmpolitan and gave women around the world a glimmer of hope, telling the magazine that he feels ready to settle down. He said,
I didn't think much about settling down until recently. Now that I'm getting closer to my 30s, I'm around some great relationships and I've seen expert couples at work. I'm realizing that you have to find your own happiness before you can make somebody else happy.
Me: OK, let's all play it cool. Don't freak out. We don't want to scare him off.
Also me:
I just have so many feelings.
He also added that he uses his brother as a "barometer" for his relationships, and wow, proof that Zac Efron is all about truly connecting with someone on a genuine level. He said,
If I'm dating someone, one of the few people I need to weigh in on the situation is my brother. We live together, and we're different in a lot of ways, but he's really grounded. He lived a more normal life than I did growing up, so he's a great barometer for me. He'll be like, 'Are you sure you're happy? Is this what you really want?' Having my little brother around is a really great thing.
A man who looks to his family for dating advice? What's next, he hands out puppies on all of his first dates?
So, now that we know Zac Efron is a ~total~ catch, we have to ask ourselves if he's even available for us to try and grab.
While there's no confirmation from him or anyone who represents him, it looks like our man might be off the market. I'll allow you all a moment to weep.
OK, time's up.
So let's have a look at what we found on the internets about our Mr. Efron.
It was originally thought that Zac Efron was dating Baywatch co-star Alexandra Daddario when a photo of him kissing her (on the cheek, calm down people) was shared on her Instagram:
Which seemed innocent enough, but Twitter had a lot of feelings about it, immediately shipping the pair:
But sadly, it seems as though the two aren't dating, and they're just, like, best buds. Daddario told E! News at the Billboard Music Awards that the Instagram photo was nothing more than the two of them just palling around. She said,
I understand why people would go crazy over something like that, but Zac and I are very good friends.
So if Zac Efron and Alexandra Daddario aren't dating, that means he's totally on the market, right?
Wellllll.
Sorry, kids. It looks like he may be taken.
On Dec. 1, Efron shared a pretty gorgeous moment of him and his The Greatest Showman co-star, Rebecca Ferguson. It shows Ferguson gazing longingly at Efron, and Efron cheesing hard at the camera:
But it's what he captioned the photo that grabbed people's attention. He wrote,
A pic is worth a thousand words. Only ones I can think of now are: wtf were u thinking dude?! Look at her!! #GreatestShowman#RebeccaFerguson
Then, on Dec. 10, he seemed to have shared an update with his fans, with a picture that shows Efron looking at Ferguson the was she looked at him in the previous photo:
His caption? "I finally looked..." followed by the heart-eyed emoji.
BRB, screaming.
So, while it's not definitive proof that Efron and Ferguson are a couple, it definitely hints toward the two being an item – and people are so here for it:
So you can all totally try to find yourself bumping into Zac Efron somewhere, locking eyes, and instantly seeing your destiny right in front of you...but there's no guarantee that he's going to feel the same way.
The truth hurts, but someone has to say it, and that someone is me.
Sorry, not sorry.