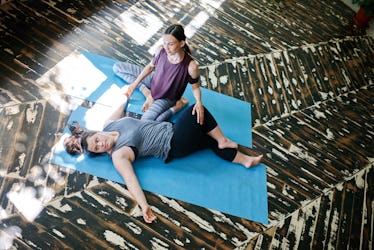 7 Yoga Poses You'll Probably Want To Avoid Doing When Your Back Is Sore
When it comes to muscle aches, while gentle yoga and stretching are often part of the doctor's orders, I've definitely found that certain types of poses exacerbate my pain rather than relieve it. While yoga is generally my exercise of choice, I've wondered whether yoga is bad for your back when you're really aching and feeling super sore. Is yoga something you should avoid altogether when you're dealing with back pain?
As with so many things, it really depends on the circumstance. When your back (or any part of your body) is in pain, it's always best to start out by letting your body be your guide as to what you can and can't do. If your back is crying out for rest, then rest, dammit! There's no need to push yourself, especially when you're just not feeling it. Knowing when to go easy on yourself is just as important in your workout routine as pushing and challenging yourself on your best days.
If you do manage to find yourself at a yoga class while you're nursing sore shoulders or some serious tension in your lower back, keep in mind that there are definitely some poses and movements you'll want to avoid to make sure you're keeping your muscles safe. Here are a few you should hold off on until you're feeling better.