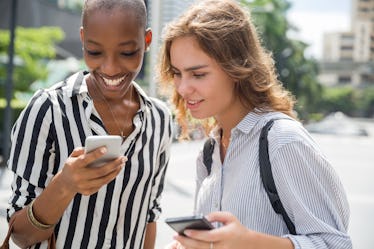 Vine Might Be Coming Back As "Vine 2," According To This Super Cryptic Tweet
"Oovoo Javer," "Duck Army," and "Back At It Again At Krispy Kreme" are just some of the many videos — some might call them films, but who's to say — that shaped internet humor from 2013 to 2016, thanks to Vine. Unfortunately, just over a year ago, Twitter announced that it would be shutting the app down after three years, and the internet was collectively crushed. However, it looks like Vine might be coming back.
It's true: There may be hope for Vine, according to a cryptic tweet from the app's co-founder, Dom Hofmann. On Tuesday, Dec. 6, Hofmann posted an image of the Vine logo as "V2." The tweet has left the internet to wonder if their favorite app is actually coming back.
Sadly, there aren't a lot of details yet about the reboot. Hofmann followed up the tweet, saying that he doesn't have more to share at this time, but will "as it develops." However, he did say that he is funding Vine 2 himself as an outside project so as not to interfere with his regular work.
Vine's other two co-founders, Rus Yusupov and Colin Kroll, have not commented on the announcement from Hofmann. The two have been rather busy with other ventures since Vine was shutdown. They currently run Intermedia Labs, which is responsible for the mega-popular game HQ Trivia.
It is unclear when Vine 2 is coming, but it's safe to say we've been waiting for this for a long time.
Hofmann, Yusupov, and Kroll founded Vine in June 2012, and it was acquired by Twitter in October of that year for a reported $30 million. The app officially launched in Jan. 2013 for iPhone — and by April, it was the most downloaded free app in the iOS app store.
From there, Vine gave birth to a world of hilarious user-generated content. The app became the centerpiece of millennial humor and comedy, and launched the careers of many current influencers including KingBach, Jerome Jarre, and Orion Carloto. Of course, there were plenty of popular Vines not made by influencers, and I'm sure you have a few favorites.
As Vine's popularity grew, many criticized the seemingly unfair treatment of some influencers compared to others, particularly across racial lines. The New Yorker revealed that certain users were able to rake in thousands of dollars for sponsored Vines. Meanwhile, other users whose videos have millions of loops have received no payments or sponsorships from brands or celebrities who have used the phrase to sell products, according to Teen Vogue. The issue of proper compensation disproportionately affected black and brown Viners, who played a large part in creating the app's unprecedented 200 million active users, The Fader reports.
Even those who were receiving recognition for their content were frustrated that Vine did not integrate a formal advertising system (similar to YouTube's), which would have allowed users to generate ad revenue themselves.
Further criticism came when Twitter announced that it was shutting down Vine in Oct. 2016, in the midst of stagnant user growth and financial troubles. Wired noted that even while creators of color like King Bach were being featured on magazine covers, Vine failed to fully embrace them as the heart of the app.
Much of the blame was placed on Twitter. Yusopov, who had been laid off by the company the previous year, tweeted this following the shutdown:
It is unclear whether Vine 2 will be a relaunch, a modification of the original app, or something different entirely. Hopefully it will come with more opportunities and appreciation for creators and users. And maybe, just maybe, it will stick around for good.
Check out the entire Gen Why series and other videos on Facebook and the Bustle app across Apple TV, Roku, and Amazon Fire TV.