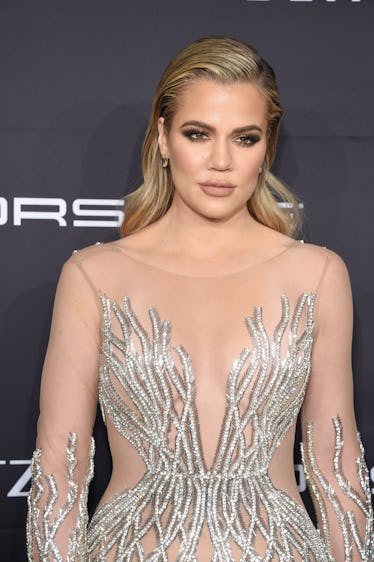 Here's What Khloé Kardashian's Daughter Has In Common With Her Dad
Jamie McCarthy/Getty Images Entertainment/Getty Images
Khloé Kardashian has finally confirmed not only the arrival of her beautiful baby girl, but also her name: True Thompson. It's unique, for sure, but it's kind of hard not to notice that Khloé has apparently chosen not to give her daughter her own last name. So is True Thompson named after Tristan, her father, or is it merely a coincidence that both of their initials are TT? I'm not sure, exactly, where I stand on my feelings about Tristan, but objectively speaking, the nickname "TT" is pretty darn cute.
In case you have no idea why I feel a little, shall we say, on-the-fence about Tristan Thompson, rumors have been swirling for weeks now that the 27-year-old NBA star reportedly cheated on Khloé with at least five different women. Elite Daily has reached out to both Kardashian and Thompson's teams regarding these allegations, but did not hear back by the time of publication.
Since I can already feel my blood boiling at the mere thought of a new mom potentially having to deal with that kind of toxic chaos in her relationship, let's go back to the happy news for a moment, shall we? On Thursday, April 12, TMZ reported that Khloé Kardashian had given birth to a healthy, baby girl. And as of Monday, April 16, we now know what that little munchkin's name is: True Thompson.
I don't know about you, but even just the sight of those pink balloons and gorgeous flowers makes my heart swell with excitement for Khloé. It sounds corny, but the new mom is embarking on a lifelong journey with baby True, and I can't wait to see the memories these two will make together. After all, the 33-year-old Kardashian has been an aunt to her nieces and nephews for a while now, and in a 2015 interview with Refinery29, she talked about how she's pretty sure she'll be just as fun as a mom as she is as an aunt:
I'm a really fun aunt, so I hope I'm going to be a fun mom! I like to have fun and be silly and not take myself too seriously with the kids, so I hope that will translate when I actually have my own.
OK, but really, we need to talk about Khloé Kardashian's baby's name. True is beautiful and original in its own way, and like I said, I think the nickname "TT" for True Thompson is to-die-for. But "TT" also happens to be the nickname Kardashian sometimes calls her SO (and now, the father of her child), Tristan, by, and given the kind-of-chaotic state of their relationship just as True came into the world, maybe it wasn't the best call.
But hey, that's not my business, nor anyone else's except Khloé's and Tristan's. Besides, a source close to the Kardashian family has claimed that Khloé's already forgiven Tristan for his alleged infidelity, so if she's able to put it all behind her — whatever "it all" actually is — shouldn't we be able to, too? The source told People,
Khloé is feeling nothing but happiness right now. She is head over heels in love with her little girl—she is just consumed with love. Absolutely nothing else matters ... She's so incredibly happy that her baby is here, that she is big and strong and healthy and beautiful, and so right now Khloé truly has no other cares in the world. She isn't even mad at Tristan right now.
The source added,
She's basically already forgiven him ... She is in a bubble of love and peace and happiness right now, and everything that happened with Tristan is less about 'cheating' and more like, it was just a random drunken hookup that meant nothing and was kissing at most and didn't lead to anything else and was the fault of stupid groupies trying to trap him, and everybody just needs to move on.
Bottom line: Regardless of what's going on behind closed doors, I wish nothing but happiness for Khloé and baby True. Congratulations to the new mama!