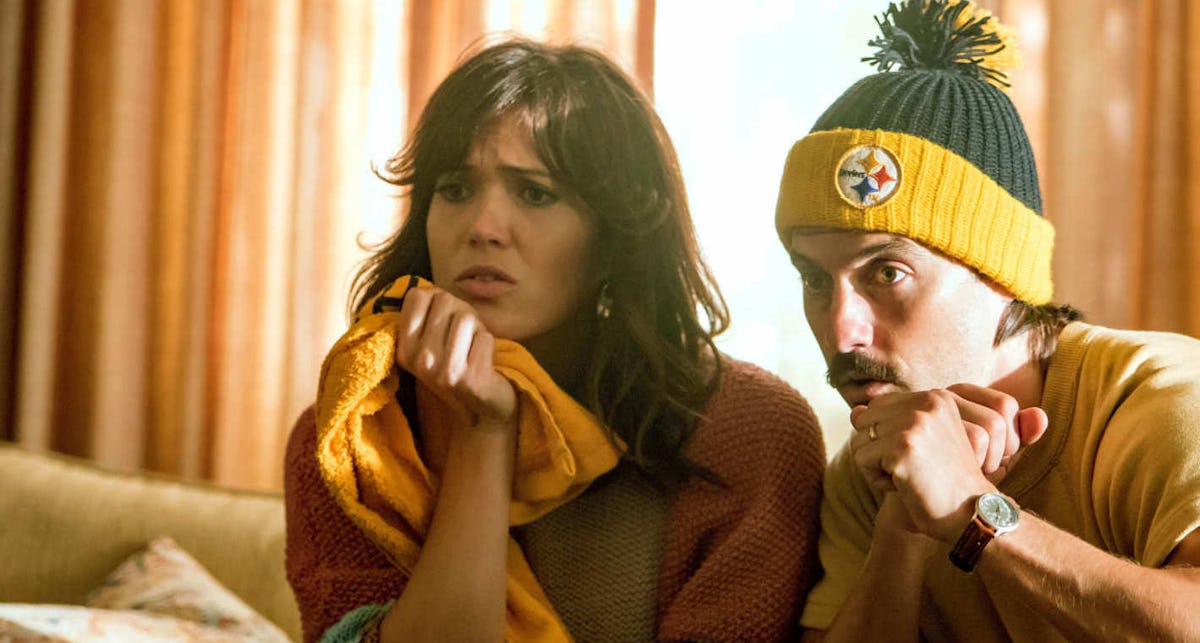 Is 'This Is Us' On Next Week? January 30 Won't Bring Any New Answers
NBC
Welp — This Is Us just hit fans with an emotional wallop of an episode on Tuesday night... and now it's going to be leaving all of us emotional, grieving messes hanging for a whole two weeks before giving us any closure! Unfortunately, the NBC family drama will not be airing a new episode next week on Jan. 30, and it was right when the fandom needed a new ep most, honestly. But the show will be back with a major episode on Sunday, Feb. 4, airing right after the Super Bowl. I know it's sad, but the This Is Us Super Bowl episode looks like it will definitely be worth the wait.
Having the emotional climx of Jack Pearson's storyline air right after the Super Bowl really just seems fitting. Not only was Tuesday night's new episode set on Super Bowl Sunday in the past when the Big 3 were all teenagers, but the upcoming new episode will continue that same night. Plus, all This Is Us fans know how obsessed Jack is with the Super Bowl, and how integral the annual football game actually came to be in the Pearson family: Kevin, Kate, and Randall were all conceived on the night of the Super Bowl, and Kate makes a special point to watch the big game every year with her dad's ashes. So even though we have to wait a little bit longer to see the new episode, this timing just makes sense.
And as far as an incentive to wait... Episode 14 is pretty clearly going to be the major episode that every This Is Us fan has been waiting for since the show first premiered. Spoiler alert: Don't read on if you have not watched This Is Us Season 2 Episode 13 "That'll Be The Day" yet. The recent thirteenth episode of the season ended in no uncertain terms that we will definitely be seeing Jack's death in the next ep. As the Pearsons' crockpot lights up in the kitchen on Super Bowl night, flames begin billowing in the first floor of the home while Jack and Rebecca are asleep upstairs. The final shot is that of the flames climbing the stairs, so yeah... they definitely cannot delay this death scene any longer.
To make it even clearer, the episode title for Episode 14 is called "Across The Border," which makes us think about crossing over to the other side. Plus, the promo video for the upcoming episode promises that this will be the one where "all our questions get answered," and we see Jack opening up his bedroom door to the billowing plumes of fire in his house. Add that together with this incredibly eye-catching, special post-Super Bowl airing time, and I am pretty confident in saying that this will definitely be the episode where we learn how Jack died. Check out the promo for the heart-wrenching upcoming episode for yourself below:
Start stocking up on tissues now, you guys. There's nothing like a good, disgusting, hour-long cry to really top off a big football game, right!?
Anyway, This Is Us fans should just be sure that they know not to expect the big emotional episode next Tuesday (Jan. 30), because the family drama will not be airing. But, be sure to tune in for the extra-special new episode at a special time on Sunday, Feb. 4, which will premiere right after the Super Bowl ends (sooo, there's no real set time for that). Then This Is Us will be back to its regular schedule after the Super Bowl episode, with a new episode airing just two days later on Tuesday, Feb. 6.