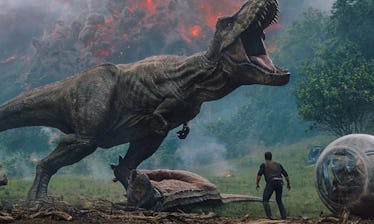 There's A Major Reason You Should Stick Around After The 'Jurassic World' Credits Roll
Universal Pictures
These days, audiences are used to staying put after a movie until the last name rolls down the screen. They could miss something — a tease for a future sequel, an extra tidbit, or at the very least a blooper reel of the actors messing up their lines. Blockbusters often don't always end when they end (thanks for changing our expectactions forever, Marvel), so, is there a Jurassic World post-credit scene? Fans are wondering if Fallen Kingdom serves up a delayed moment that's worth sticking around for, especially considering it's the second part of an ongoing trilogy. Spoilers ahead for Jurassic World: Fallen Kingdom.
Fallen Kingdom kicks off three years after the previous film, where you may recall theme park Jurassic World was obliterated. Ex-trainer and friend-to-raptors extraordinaire Owen Grady (Chris Pratt) and former-park-manager-turned-dino-protector Claire Dearing (Bryce Dallas Howard) take their talents to the island of Isla Nublar — which is on the brink of being destroyed by a volcano — to rescue its population of dinosaurs before the eruption.
And Jurassic World: Fallen Kingdom isn't quite complete following its supposed last frame. According to reports, there is no mid-credits scene or footage during the credits, so save some popcorn and get comfy in that theater seat. But there is more to the film after the credits are totally finished. The scene apparently doesn't offer crucial plot points or hints about the next sequel, but it does show the further aftermath stemming from the events of Fallen Kingdom, hammering home the severe and expansive results of what goes down. Ruh-roh.
Fallen Kingdom marks the return of Jeff Goldblum's wise, yet arrorgant scientist Ian Malcolm. There's also a new dinosaur breed to contend with and more moments with Velociraptor favorite, Blue. The film paves the way for the forthcoming third installment of the Jurassic World trilogy, which is expected to hit theaters June 11, 2021. Colin Trevorrow passed his directing torch to horror movie-maker JA Bayona for Fallen Kingdom, but it's been confirmed that he will get back in the director's chair for the last chapter.
Trevorrow previously revealed that he had the entirety of the story mapped out from the beginning with a trilogy in mind. And while the first World surrounded the idea of "greed," according to him, Kingdom "focuses a little bit more on our responsibility for these animals that we've made as a result of that greed, but also just the darkest and worst instincts of humans, again, if there's money involved."
The third Jurassic World film has yet to be titled. The main actors are signed on to reprise their roles. Trevorrow has also teased how Fallen Kingdom sets up its subsequent follow-up:
At the end of this movie, it's not a cliffhanger, but it's designed for people to want to know what's going to happen next, whereas the earlier Jurassic Park movies had pretty clear definitive endings. They were much more episodic. In working with Derek Connolly, my co-writer, we were also thinking about where it was gonna go in the future.
"There will be another film, and we have a loose idea of what that film is, so we can't get into any spoiler territory. This film does very much play as the second film in a trilogy, and I think it's safe to say we're going to see the repercussions of this technology becoming widespread around the globe," star Chris Pratt told Radio Times. "It's truly going to become a Jurassic World."
You can say that again. Jurassic World: Fallen Kingdom roars into theaters in the U.S. on Friday, June 22, 2018.