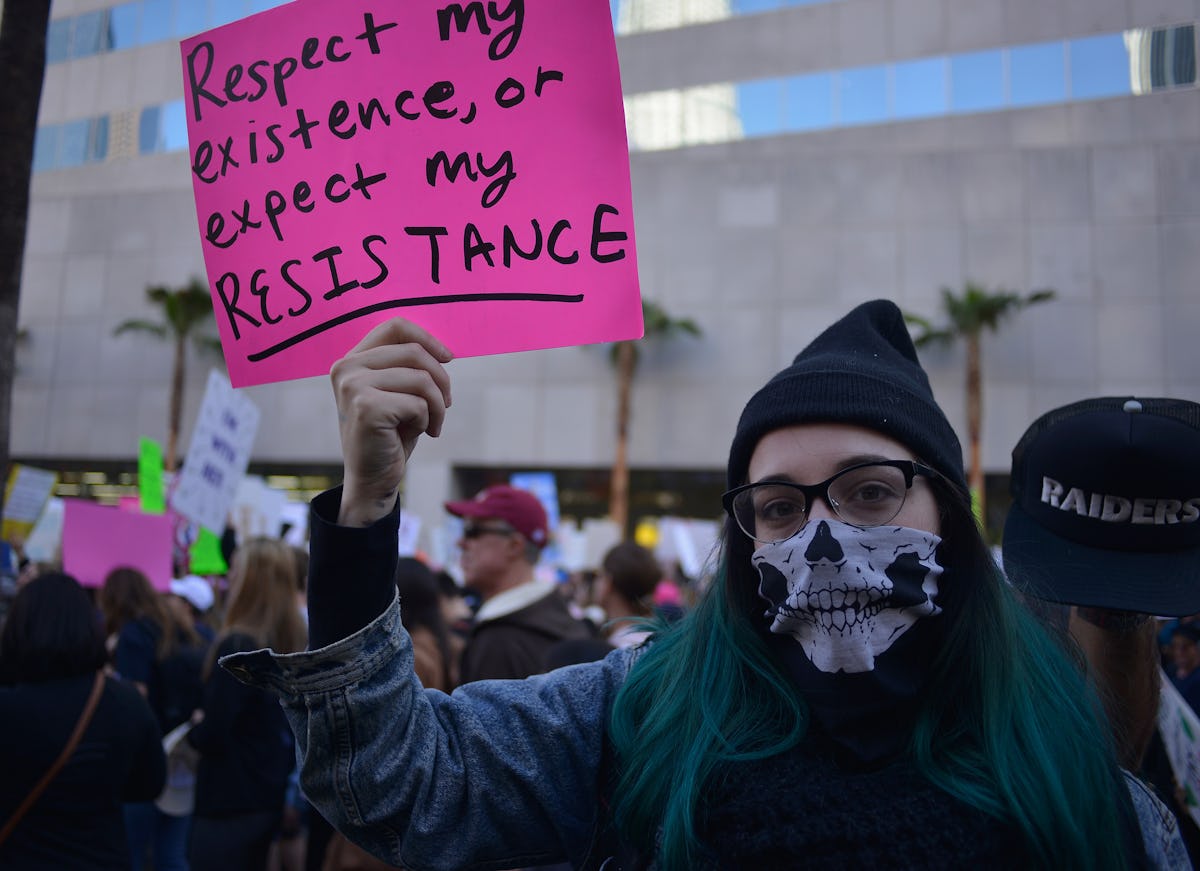 If You're Scared The Government Shutdown Will Affect The Women's March, Don't Be
Chelsea Guglielmino/Getty Images News/Getty Images
On Friday, Jan. 19 at 11:59 p.m. ET, while the rest of us were kicking off our weekend, Congress kicked off President Trump's inauguration anniversary with a good ol' government shutdown. This weekend is also the one-year anniversary of the Women's March, and demonstrations will be taking place across the country. This leads us to ask, "Is the Women's March affected by the government shutdown?" Thankfully, these organizers aren't going anywhere.
According to The Los Angeles Times, the Women's March will not be affected by the government shutdown. Because a government shutdown affects federal employees, organizers raised concerns that marches taking place near certain landmarks or monuments might not be able to go on — specifically, the Women's March on Washington, which begins at the Lincoln Memorial Reflecting Pool. The monument is maintained by the National Parks Service (NPS), aka federal employees. A majority of them (87 percent, to be exact) are not currently working due to the shutdown.
However, a "special provision" has been issued for "first amendment activities in the National Mall and Memorial Parks" to carry on during a shutdown, Roll call reports. Although the NPS is currently understaffed as a direct result of the shutdown, roughly 3,300 employees, including 652 U.S. Park Police officers, will continue working to "[protect] life and property" in places like the Lincoln Memorial.
While the main Women's March will take place in Las Vegas, Nevada on Sunday, Jan. 21, over 300 cities and towns will organize sister marches that are set to occur over the weekend, per NPR. At this time, it does not appear that the main march or any other sister marches will be affected by the government shutdown.
So why is there a government shutdown? On Friday, Jan. 19, government funding officially expired before Congress was able to agree on a new spending deal. Throughout the fall, Congress passed "temporary spending bills," which allowed them to delay the creation of a long-term bill. But now, funding has officially expired.
The issues causing the most friction between Republicans and Democrats when it comes to government spending are the Children's Health Insurance Program (CHIP) and Deferred Action for Childhood Arrivals (DACA). Over the past year, Women's March has consistently emphasized the importance of a DACA solution that will protect Dreamers and their families. The organization has also spoken about net neutrality, healthcare, gun control, racial inequality, police brutality, and Hurricane Maria.
This year, the march's theme is Power to the Polls. With the midterm elections less than a year away, organizers are preparing to embark on a national voter registration tour in hopes of electing more progressive candidates to the 468 seats in Congress that will be up for election in November. The location of the main Women's March is directly tied to the theme. The tour will begin in Nevada, a swing state, and travel to other swing states across the country to help register eligible voters and encourage them to participate in the midterm elections. Nevada was also chosen due to its position as a hotbed for a number of political issues this year, including gun control and sexual harassment.
"Women's March has created a powerful movement that has ignited thousands of activists and new leaders," said Tamika D. Mallory, co-president of Women's March, in a statement on the organization's website. "In 2018, we must turn our work into action ahead of the midterms. This new initiative will address voter registration and voter suppression head on. We marched for justice in D.C., we created our plan in Detroit and now we're bringing the power of the polls to Nevada."
You can follow Women's March on Twitter @WomensMarch for updates on the main event.
Check out the entire Gen Why series and other videos on Facebook and the Bustle app across Apple TV, Roku, and Amazon Fire TV.