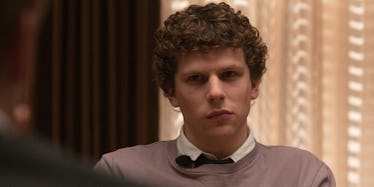 3 Ways To Watch 'The Social Network' While Mark Zuckerberg Faces Congress
Columbia Pictures
David Fincher's drama about the humble creation and meteoric rise of Facebook, The Social Network, was released in a time that feels like hundreds of years ago in technology time — autumn of 2010. The Oscar-nominated film came out pre-Snapchat and before the ubiquitous use of filters, when Instagram was just an itty-bitty seed with under 1 million users. Facebook was still the go-to platform for connecting with "friends" and sharing one's life online, and the Aaron Sorkin-penned movie became an instant critical darling. Is The Social Network on Netflix right now? There are a handful of ways to revisit the fascinating film.
The Social Network was nominated for a whopping eight Academy Awards back in 2011, including Best Picture and Best Director. Aaron Sorkin ended up picking up gold for his adapted screenplay and Trent Reznor (of Nine Inch Nails fame) won for Original Score. The movie was an unrelenting portrait of how Facebook went from startup to Internet domination.
Seasoned writer Aaron Sorkin explained to Time that he said a swift yes to working on the project after reading a book proposal for The Accidental Billionaires, which the movie is loosely based on:
It really didn't have much at all to do with Facebook itself. I wasn't on Facebook. I don't spend a lot of time on the Internet, and social networking wasn't really part of my life. But the story itself! There are elements of it that are as old as storytelling: friendship and loyalty, class, jealousy, betrayal — all those kinds of things that were being written about 4,000 years ago. It struck me as a great big classic story. And those classic elements were being applied to something incredibly contemporary.
Facebook has been at the center of the news cycle in recent days, as founder Mark Zuckerberg's congressional hearing regarding the company's data breach is underway. The popular website was launched in 2004 as the brainchild of Zuckerberg, who was a Harvard college student at the time of its inception. It quickly caught fire and eventually became a multi-billion dollar company with users of all ages from all over the globe. But its development and evolution was not without controversy and growing pains. If you're looking to watch the movie based on the story of how the service began, there are you have a bunch of opportunities to get that The Social Network viewing fix.
The Social Network is not available on Netflix (womp, womp) at the moment, but it is viewable on a whole host of streaming sites.
1. Amazon
You can stream The Social Network instantly on Amazon Prime Video. If you're going for a a completely immersive experience and want to get in a total 2003 mood, it's possible to buy it on DVD/Blu-Ray on Amazon too.
2. Vudu
If you have a Vudu subscription, you can rent or buy the film there.
3. iTunes
You'll find The Social Network in the iTunes store, with options to both rent and buy. The award-winning soundtrack is also purchasable at the digital media commerce platform if that strikes your fancy as well.
If you haven't seen the movie, prepare to get a double dose of a pre-Call Me By Your Name Armie Hammer (he plays both Winklevoss twins, the guys who sued Zuckerberg claiming they stole their idea), as well as a fresh-faced Andrew Garfield and Jesse Eisenberg in the role that earned him an Oscar nomination. There's also Rooney Mara in one of her first big movie parts and lest we forget, the ever-versatile Justin Timberlake makes a memorable turn as Napster creator Sean Parker. 2010 seems like an eternity ago, am I right?