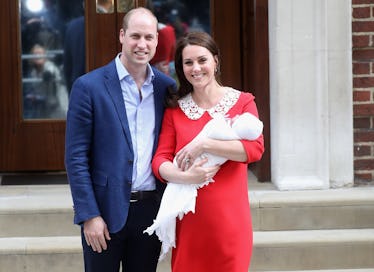 The Royal Baby's Name May Have Been Leaked On The Family's Website & OMG
Chris Jackson/Getty Images Entertainment/Getty Images
In an age when everyone's susceptible to a digital glitch or two, one would think that the Royal Family would have some protections in place for their digital presence. Right? Well, apparently not. While everyone has been on the edge of their seats waiting for the Royal Family to announce the name of Prince William and Kate Middleton's new baby, a few digitally savvy people over at The Daily Mail spoiled all the fun. A vulnerability in the family's website may have exposed the new baby's name as Albert. There's been no official word yet on if this is true, so inquiring minds want to know: is the Royal baby named Albert?
UPDATE: On April 27, Kensington Palace announced the royal baby's name is Prince Louis Arthur Charles.
EARLIER: Let's take a look at how and why Albert makes sense:
First, there's the whole website glitch situation that social media is currently abuzz over. The reason why it's important is because the name technically comes from an official source.
If you visit the Royal Family's website at royal.uk and add a name, such as Prince George, to the end of the URL, you'll be brought to that person's page. Now, you won't be able to see anything but "Access denied" at the very top, but the page exists nonetheless. So, that's a huge hint!
For example, if you were to visit royal.uk/prince-george, your web browser would yield this result:
And if you visit royal.uk/princess-charlotte, you'll get this result:
Now, if you're curious about what the Royal baby's name could be, what would you do? Well, you'd probably repeat the same process with names that are most likely to be attached to the family.
In recent months, British bookmakers have placed a huge emphasis on the name Arthur as the most likely contender for the Royal baby. That name is followed closely by James and Albert.
So, as impatiently curious folks do, some brave and clever soul out there decided to give these names a shot on the Royal Family's website.
It doesn't look like it's Arthur:
Nor does it look like his name is James:
The last option, Albert, produces a page that's exactly like Prince George's and Princess Charlotte's:
Clearly, there's a method to this madness. Or is the Royal Family just trying to throw the whole world off? I somehow doubt they'd take the time to troll the entire world over. That just seems silly.
It could be that the Prince Albert page on the website is meant for Queen Victoria's husband, who was known by that moniker. There's still a possibility, though, that William and Kate could revive the name.
Even Royal Family supporters are buying into Albert as the chosen name. They're going pretty wild on Twitter right now. Many of them are even taking guesses at what the baby's middle name could be!
Not everyone's on board with the name, though:
Oh well. While the world awaits the official announcement, Royal Family enthusiasts will just have to keep guessing.
All jokes and speculation aside, though, Albert definitely makes sense if that is, indeed, the baby's name. Albert was Queen Elizabeth's father's name. He only adopted the name George once he took the throne in 1936. So, if Albert turns out to be his name, it'll definitely have a lot of meaning for the family.
The Royal baby was born Monday, April 23. He is the third child of Prince William and Duchess Kate. The couple's two older children are Prince George, 4, and Princess Charlotte, 2. The baby will be fifth in line to the throne. He follows his grandfather Prince Charles, his father Prince William, his brother Prince George, and his sister Princess Charlotte.