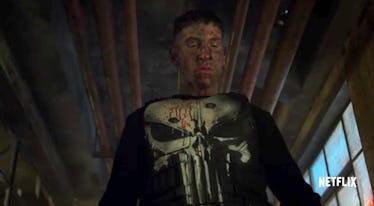 'The Punisher' Is One Of The Most Violent Shows On Netflix, But How Scary Is It?
Netflix
Over the past few years, Netflix has become known for its growing original series catalogue with binge-able shows like Orange Is The New Black, Narcos, and Stranger Things topping the charts everywhere. Some of the streaming service's most popular series include six action-packed collaborations with Marvel Comics, and their latest team effort, The Punisher, already has Netflix enthusiasts and Marvel diehards glued to their television (or, in most cases, computer) screens. The question many fans have before embarking on the most recent journey into the Marvel Cinematic Universe, though, is: Is The Punisher scary? There's no doubt this is one of the most violent collaborations to come from the Netflix/Marvel team, but whether or not it's scary is another question entirely.
Let's be real, we're used to seeing violence in MCU/Netflix shows; indeed, in the past we've seen people get decapitated with car doors (Daredevil), killed with mic stands (Luke Cage), and repeatedly slashed with a scalpel (Jessica Jones), but while these moments may have been scary, the shows themselves are not. The Punisher, likewise, has its terrifying moments, but the show itself doesn't quite fit into the horror genre.
That being said, if you're someone who can't stand tons of blood and gore, this is definitely one you might want to skip.
If you are up for it, though, The Punisher delivers exactly the kind of excitement, suspense, and action we have all come to expect from the MCU/Netflix duo. It's the first new series to premiere since the initial collaboration between Marvel and Netflix was announced (indeed, the original plans only included the shows Daredevil, Jessica Jones, Luke Cage, Iron Fist, and The Defenders), but it certainly fits right in with its predecessors.
Steve Lightfoot, The Punisher's showrunner, spoke earlier this year with Den of Geek about his attraction to the series and his work on putting it together; the show's creator said,
For me, the complexity and unpredictability of Frank Castle make him an incredibly compelling character and I couldn't be more excited to dive into his world.
MCU fans have been waiting for the show's release for quite some time now, since Lightfoot made it clear he'd want to be involved its development over a year ago when he told Complex,
For me, it's not a question of what they want to do with a character, it's more, how are they going to do it, and who's going to be the ones to do it. [Frank Castle] is in my bones now, he's in my blood. If they want to go forward in any way, for me it's just really going to be about making sure we do it in a way that's raw and intense. I want to push the envelope. I wanna alienate more of the audience and try to bring them back."
Of course, this isn't the first time fans are seeing Frank Castle in a Netflix/Marvel collab; the anti-hero was an important part of the first season of Daredevil on Netflix, as well, and Lightfoot's desire to "push the envelope" with The Punisher stems directly from seeing Jon Bernthal (the actor who plays Frank Castle) alongside Charlie Cox's Matt Murdock. Lightfoot told Den of Geek,
After watching Jon's performance in Marvel's Daredevil I could not be more excited to be working with him to further develop and progress the story of this anti-hero in a show of his own.
I can't say I blame him. If this anti-hero's show is half as successful as his fellow Marvel characters' shows, then I bet we'll be seeing plenty more of him in the future. Blood, violence, and all.
Check out the entire Gen Why series and other videos on Facebook and the Bustle app across Apple TV, Roku, and Amazon Fire TV.