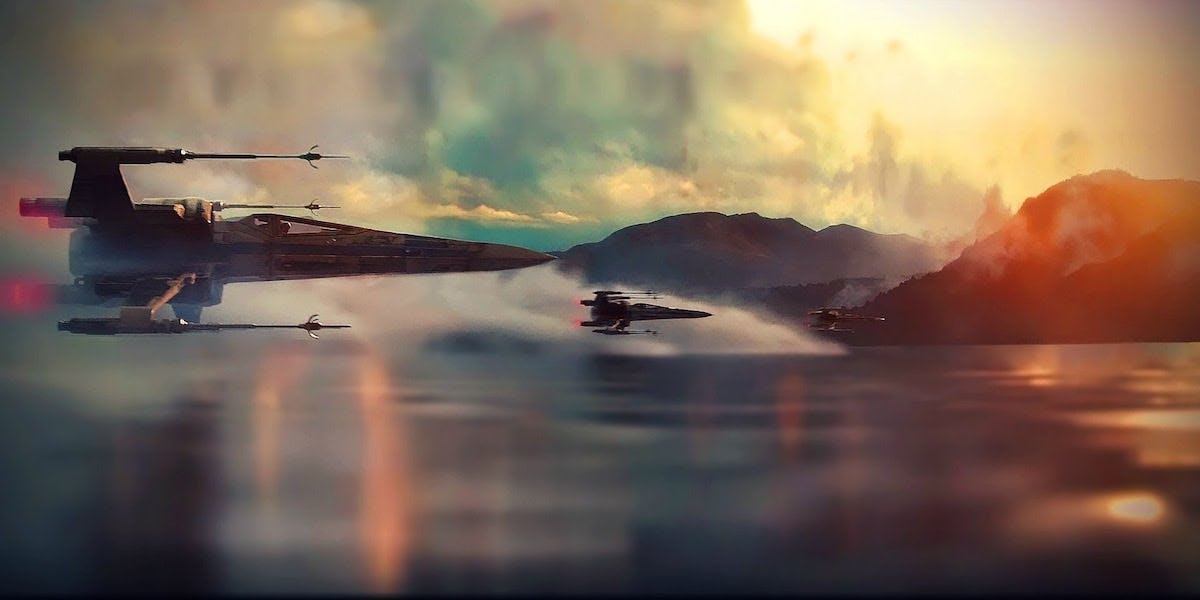 Here's Where To Watch 'The Force Awakens' Before 'Star Wars: The Last Jedi' Premieres
Lucasfilm
We're just days away from the release of Star Wars: The Last Jedi. For those who want to marathon the previous movies ahead of the newest installment, now's the time to start planning. There are eight films to get through if you include the prequels. (Nine if you include The Clone Wars film.) How best to stream these, if you don't already own them on DVD? Or, if you're like some old school people with VHS versions that date back to "before Lucas started ruining them." Most importantly, is Star Wars: The Force Awakens on Netflix? And if not, how should you go about watching?
Despite the rumors that Disney is looking into making its own standalone streaming service that will host nothing but MouseHouse content, that effort is still far in the future. As it stands currently, Netflix US and Disney made a deal back in 2016, known as a "pay one" deal. That is, Netflix pays once a year, upfront, and for that, it gets the first-run exclusive streaming rights to every movie that Disney releases in theaters.
There's just one catch. That deal was announced in spring 2016, and it only counted towards theatrical releases dating from Jan. 1, 2016 onward. Everything released prior to that, most of which were covered under other deals with other channels with streaming services (HBO, Hulu, STARZ, Amazon, etc.), is not eligible.
So, Rogue One: A Star Wars Story? Released Dec. 18, 2016. Totally covered under the Netflix deal and streaming as we speak.
But Star Wars: The Force Awakens, which was released on Dec. 17, 2015? Not eligible. It was already snatched up under a completely different deal with STARZ.
That is, it's not eligible on Netflix US. Disney and Netflix Canada, on the other hand, struck the deal so it started Jan. 1, 2015. So, our Canadian friends can stream Star Wars: The Force Awakens on Netflix. But we can't.
Meanwhile, the original trilogies get even more complicated. When Disney struck the Grand Bargain back in 2012 with Lucasfilm, the first six movies were not included as part of the deal. None of these movies are streaming on Netflix. Clone Wars also wasn't include. (The rights for that are owned by Warner Bros. It is streaming on Netflix right now, but that's just luck.)
Meanwhile, A New Hope, The Empire Strikes Back, The Phantom Menace, Attack of the Clones, Revenge of the Sith and Return of the Jedi were all originally released under 20th Century FOX, which still retains the rights to all six films through 2020. At that point, the rights to the three prequels and Episodes V and VI will revert back to Lucasfilm, and be owned by Disney. But the original Star Wars, Episode IV, A New Hope, is owned by FOX in perpetuity.*
(*Or until Disney simply buys up 20th Century FOX in a deal expected to be announced next week. Stay tuned.)
So how can you stream the old Star Wars movies? It turns out the answer is on Turner Broadcast Networks' TNT.
While Disney was striking deals with Netflix to have first streaming rights to all its broadcast releases, Lucasfilm worked out a separate deal that Turner will have the rights to stream all things Star Wars after its first run streaming rights are over. Right now, that includes the six 20th Century FOX-owned films. When STARZ's rights to The Force Awakens ends, it too will go to TNT, as will Rogue One, when the first-run deal with Netflix times out.
So, to recap: Here's how to stream all the Star Wars movies ahead of The Last Jedi's release, assuming you are watching in chronological order.
Star Wars: The Last Jedi arrives in theaters on Friday, Dec. 15, 2017.