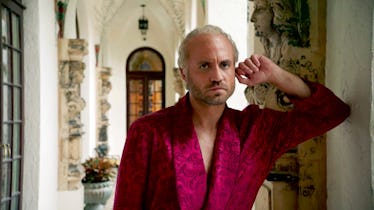 Everything You Need To Know About The Versace Murder Before 'American Crime Story'
FX
In its first season, American Crime Story took on one of the most famous crimes in American history by dramatizing O.J. Simpson's murder trial, and now the anthology series is setting its sights on another major celebrity murder from the '90s. Season 2 is called The Assassination of Gianni Versace: American Crime Story, as Ryan Murphy and crew attempt to answer the still mysterious question of why the legendary designer wound up being shot. So, just how much of American Crime Story's Versace murder is real? I'll break down everything you need to know about the IRL murder of Gianni Versace before you start watching American Crime Story this season.
The main thing to know is that the new series focuses much more prominently on serial killer Andrew Cunanan than on Gianni Versace himself. There are a lot of details about Cunanan's killing spree that are public knowledge, but much of his motivations for his crimes are unknown since he committed suicide shortly after killing Versace. That means that the FX show will be staying as true to the story as it can, but will have to imagine parts of it. The Versace family said in a statement to Variety that the show should be considered a work of fiction:
The Versace family has neither authorized nor had any involvement whatsoever in the forthcoming TV series about the death of Mr. Gianni Versace. Since Versace did not authorize the book on which it is partly based nor has it taken part in the writing of the screenplay, this TV series should only be considered as a work of fiction.
Although it hasn't gotten the stamp of approval from the Versace family, American Crime Story's second season is still based on actual events. On July 15, 1997, Andrew Cunanan shot and killed Gianni Versace on the front steps of Versace's Miami mansion. In the months leading up to the murder, Cunanan had set off on a cross-country killing spree, leaving four dead bodies in his wake from Minneapolis to Miami. American Crime Story imagines how those murders took place, and why they all led up to targeting Versace.
Let's break down all the main players in the new show, and the role they played in the real-life murder of Gianni Versace.
Gianni Versace (played by Édgar Ramírez)
The title character of the series, Gianni Versace is considered one of the most influential and well-known fashion designers ever. He was born in southern Italy, and began working with his dressmaker mother at a young age. During the late '70s and '80s, Versace's fashion lines began to take off, and he grew to become an international name in design. At the end of his life, he lived in a large mansion in Miami with his longtime partner Antonio D'Amico.
Donatella Versace (played by Penélope Cruz)
Gianni's younger sister, Donatella served as Gianni's muse and critic while he was alive. Donatella was incredibly close with Gianni, and worked closely with him when building the Versace fashion empire. After Gianni's death, Donatella took over the Versace brand.
Antonio D'Amico (played by Ricky Martin)
Antonio D'Amico was Gianni Versace's boyfriend for 15 years, all the way up to Versace's death in 1997. The two began dating in 1982, and D'Amico began working on his own fashion lines under the Versace label. D'Amico famously did not have a friendly relationship with Donatella Versace — she publicly stated that she never liked him as a person. That tense relationship is played up in the FX series.
Andrew Cunanan (played by Darren Criss)
Gianni Versace's name may be in the show's title, but the real star of American Crime Story this season is Andrew Cunanan, the 27-year-old serial killer responsible for Versace's death. Cunanan was born in the late '60s in California, and was described as an incredibly bright child. In his teen years, Cunanan began lying compulsively, telling others fantastic tales about his life involving invented luxury and celebrity run-ins that hadn't actually happened. Openly gay, Cunanan lived in San Francisco up until 1997, when he set off for his string of murders and eventual suicide. He was known to date wealthy older men for their money.
David Madson (played by Cody Fern)
Andrew Cunanan's murder victims pre-Versace also play a major part in this season of American Crime Story, most notably David Madson. Madson was an architect living in Minneapolis who was dating Cunanan prior to his murder.
Jeffrey Trail (played by Finn Wittrock)
Andrew Cunanan's first murder victim was Jeffrey Trail, a former US naval officer whom Cunanan had been acquainted with in San Diego. Trail's body was found rolled inside of a rug and stuff in a closet in David Madson's Minneapolis apartment. Cunanan also stole Trail's gun, using it in his later murders, including that of Gianni Versace.
Lee Miglin (played by Mike Farrell)
Cunanan's most brutal murder was that of Chicago real estate tycoon Lee Miglin. After killing Trail and Madson, Cunanan went to Chicago to kill Miglin, who was 72 years old at the time. Miglin was found with duct tape wrapped around his hands, feet, and head, and stabbed 20 times with a screwdriver. Cunanan had also sawed his throat open with a hacksaw.
And there you have it — you're now ready to watch the show! The Assassination of Gianni Versace: American Crime Story will premiere on Jan. 17 on FX.