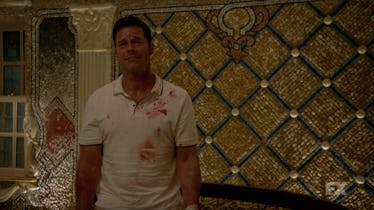 There's A New Preview Of The Versace Murder 'American Crime Story' & It's Terrifying
FX
American Crime Story is going from disgraced NFL stars to murdered fashion icons, and some newly released details about its highly-anticipated second season will have you more pumped than ever for the Gianni Versace-focused new season. The cast and crew behind The Assassination of Gianni Versace: American Crime Story are spilling all the bloody details about the upcoming true crime series in a new featurette, particularly why they chose to bring this crime to life in Season 2. Get the lowdown on everything you can expect from American Crime Story's Versace series right here.
The new featurette from FX shows fans glimpses of new scenes from the show, as well as the stars of the series talking about what actually happened when Gianni Versace was killed in 1997. Darren Criss, who plays serial killer Andrew Cunanan, informs viewers that the hunt to find Versace's killer was "the largest failed FBI manhunt in history," and Ricky Martin, who plays Versace's longtime boyfriend Antonio D'Amico, explains that many people still have no idea why Cunanan was killing gay men in '97, leading up to his murder of Versace.
The video also has new clips from the upcoming series, including a lot more of Darren Criss' Andrew Cunanan and our first look at some characters we haven't seen before now. Several clips show Cunanan's unhinged backstory, yelling that he's a serial killer in the ear of a guy he's dancing with at a club and confirming to a friend that he lies about his sexuality depending on who he is talking to. Before beginning his killing spree in 1997, Cunanan had developed a reputation as a chronic liar, and it looks like that will be a big part of the new series. The video also introduces us to the FBI agents trying to solve the murder: Dascha Polanco as Detective Lori Wieder and Jay R. Ferguson as FBI Agent Evans. You might recognize Polanco as Daya from Orange Is the New Black and Ferguson as Stan Rizzo from Mad Men.
Check out the full Assassination of Gianni Versace featurette below.
The best news of all, though, is that we don't have to wait much longer to see The Assassination of Gianni Versace: American Crime Story for ourselves — the new season will premiere on Jan. 17 on FX. The true crime series will star Édgar Ramírez in the title role of Gianni Versace, Penélope Cruz as his famous sister Donatella Versace, and Darren Criss as serial killer Andrew Cunanan.
As this new video further suggests, the series sounds like it will focus largely on Criss' character of Andrew Cunanan, delving into the killer's backstory and grappling with the question of why he went on a killing spree. In the mid-'90s, Cunanan began befriending older, wealthy gay men and edging his way into local high societies. In 1997, he set out on a cross-country killing spree, murdering at least four gay men in Minnesota, Illinois, and New Jersey before shooting and killing Gianni Versace on the steps of his Miami mansion on July 15. Eight days later, Cunanan killed himself by shooting himself in the head. To this day, the motive for Cunanan's actions remains unclear.
Executive producer Brad Simpson teases in the new video that The Assassination of Gianni Versace: American Crime Story will not only be about Versace's murder, but also delve deeply into the social issues of the mid-'90s. In particular, the series will explore how the politics of homosexuality in the era may have affected Andrew Cunanan:
Andrew's journey is a journey through the politics of homosexuality as they played across America in the 1990s.
The Assassination of Gianni Versace: American Crime Story premieres on Jan. 17 at 10 p.m. ET on FX.