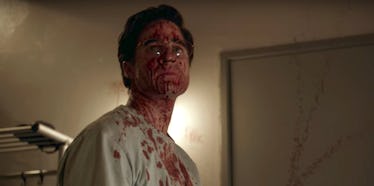 The First Trailer For 'The Assassination Of Gianni Versace' Is Here & It Looks Insane
FX
Murder is coming into style in the second installment of American Crime Story. We finally have our first look at The Assassination of Gianni Versace, and the bloody, stylish, and shocking first trailer will definitely excite fans for the new true crime series, which premieres at the start of 2018. I mean, the Assassination of Gianni Versace: American Crime Story trailer has everything you could want: flashy high fashion, an unhinged serial killer, and most importantly, Penélope Cruz putting on a long blonde wig and heavy Italian accent to channel Donatella Versace. I'm immediately sold.
The trailer makes it clear that the new series will be just as much about Gianni Versace's killer as it is about the legendary designer himself. Darren Criss — a mainstay in the Ryan Murphy stable of shows thanks to Glee and American Horror Story — plays murderer Andrew Cunanan with a demented decadence, as a fed-up young man who admires Versace and moves to Miami Beach, Florida in hopes of becoming a star like the designer. Édgar Ramírez dons a slicked-back, light grey wig and an array of leisure wear as Gianni Versace, who actually doesn't get much to do in this first trailer. The new clip also shows us Penélope Cruz's Donatella Versace impersonation, and a brief glimpse at Max Greenfield as the third Versace sibling, Santo. Check out the first trailer for the new series below:
As you can tell from that trailer, The Assassination of Gianni Versace looks like it will mostly follow Andrew Cunanan (Darren Criss) in the days leading up to his murder of Versace. Of course, a huge part of the appeal of this series to many people is that it's based on a true story, in this case, author Maureen Orth's account of the murder Vulgar Favors: Andrew Cunanan, Gianni Versace, and the Largest Failed Manhunt in U.S. History.
To further whet your appetite before the new series premieres on Jan. 17, here's some backstory of how Gianni Versace's murder went down. On July 15, 1997, Andrew Cunanan shot 50-year-old Versace dead right outside of the designer's Miami Beach mansion. Versace was just returning from a morning walk when Cunanan shot and killed him — he was the last in a five-person killing spree that Cunanan had begun three months earlier. A week after Versace's death, Cunanan killed himself using the same gun he shot Versace with, and investigators have said they could not determine a motive for Cunanan to murder Versace, and concluded they may never know why it happened.
Although we may never know why Andrew Cunanan really murdered Gianni Versace back in 1997, the new FX series seems to be putting forward its own theory. Darren Criss plays Cunanan as an unhinged, fame-seeking man obsessed with luxury lifestyle. Those close to Cunanan knew he had a reputation as a chronic liar, who would constantly invent lavish stories to make his life seem more fantastic. He was known to frequent up-scale gay bars in the San Francisco area where he would have sex with wealthy older men for money. When he was 27, Cunanan began a cross-country killing spree, beginning in Minneapolis and taking him through Chicago, New Jersey, and finally Miami Beach.
The Assassination of Gianni Versace follows up the Emmy-winning first season of American Crime Story, which portrayed the mid-'90s murder trial of O.J. Simpson. Rounding out the cast of the new series will be Finn Wittrock as Andrew Cunanan's first murder victim Jeffrey Tail, and Ricky Martin as Gianni Versace's longtime partner Antonio D'Amico. The Assassination of Gianni Versace: American Crime Story will premiere on FX on Wednesday, Jan. 17, 2018.