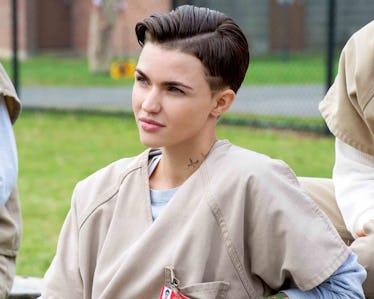 'Orange Is The New Black' Fans Have A Theory About Ruby Rose's Character & I'm Here For It
Netflix
The upcoming season of Orange Is the New Black is introducing a "whole new world": Maximum security prison. According to the rumors, rumblings, and trailers, Season 6 will see the Litchfield gang in max following last year's tumultuous and game-changing riot. If the characters are headed to max, there's a chance that one familiar face from the show's past could pop up now that there's a change of scenery. Is Stella in OITNB Season 6? Ruby Rose fans make an excellent point: Stella happens to be holed up in max, so does that mean she'll make an appearance?
Rose's sarcastic (and two-timing) character Stella Carlin spiced up Season 3 of OITNB when she was introduced. The Aussie met Piper working a panty-sewing job and the pair hit it off, eventually forming a romantic relationship, much to the dismay of Vauseman shippers everywhere. But things went seriously sour when Stella stole from Piper, who had created a lucrative business smuggling used panties out of Litchfield. Piper then proved she was not to be messed with when she framed Stella for contraband. This resulted in Stella getting hauled off to max. The last audiences saw of her was a brief stint in Season 4. Now that the Litch inmates are apparently going to max themselves, viewers are hoping to see Stella's (potentially vengeful) return.
Ruby Rose's OITNB future has not been confirmed and Stella is not featured in the recently-released full trailer for Season 6. But there are a handful longtime cast members that don't get any screen time in the clip, either — Maritza (Diane Guerrero) and Alex Vause (Laura Prepon) are absent. Thankfully for Vause fans, Prepon has somewhat sealed her guaranteed participation in the upcoming episodes — the actress has been promoting the series on social media and even posted a BTS shot of her and Taylor Schilling to commemorate wrapping filming.
As for Ruby Rose's fate... that's a little trickier. The busy actress starred in last year's Pitch Perfect 3, John Wick: Chapter 2, and xXx: Return of Xander Cage, so who knows if she even had time to shoot any other projects. She's also set for a leading role in 2018's The Meg, which hits theaters on Aug. 10. But Ruby has admitted that she attributes her mega-stardom to Orange Is the New Black, the show that initially skyrocketed her acting success.
"If it wasn't for that, I don't think I would be here doing this right now," Rose explained while promoting xXx: Return of Xander Cage last year. "Not a day goes by where I don't thank Orange Is the New Black or I don't thank Resident [Evil: The Final Chapter] for being my first film and John Wick for being the second and X for being the third... It's people that take a chance on you and that they believe in you, they really are the kind of people you never really forget and that you're always kind of indebted without them really wanting that. They do it out of the kindness of their heart. And Orange definitely changed my life in a way that I could never imagine."
So, does Ruby think her character Stella got a fair shake when Piper did her dirty and sent her packing to max? Rose revealed to Variety after Season 3:
I obviously don't think she deserved quite that fate. Stella had done her time and was ready to get out. It wasn't the wisest thing for her to steal from Piper but having said that, Stella comes from nothing. She has no money, no help on the outside, and I think this is what happens when you've done time in prison and you're about to go into the real world. It's not easy.
Orange Is the New Black Season 6 drops on Netflix on Friday, July 27. Fingers crossed for at least a surprise Stella cameo. Give the people what they want!